You can't go wrong with a bowl of pesto chicken pasta for dinner! This chicken pesto pasta is ready in under 30 minutes and is packed fresh flavors.
You can't go wrong with the combination of delicious fresh pesto and protein packed chicken. You won't regret whipping up this chicken pesto pasta.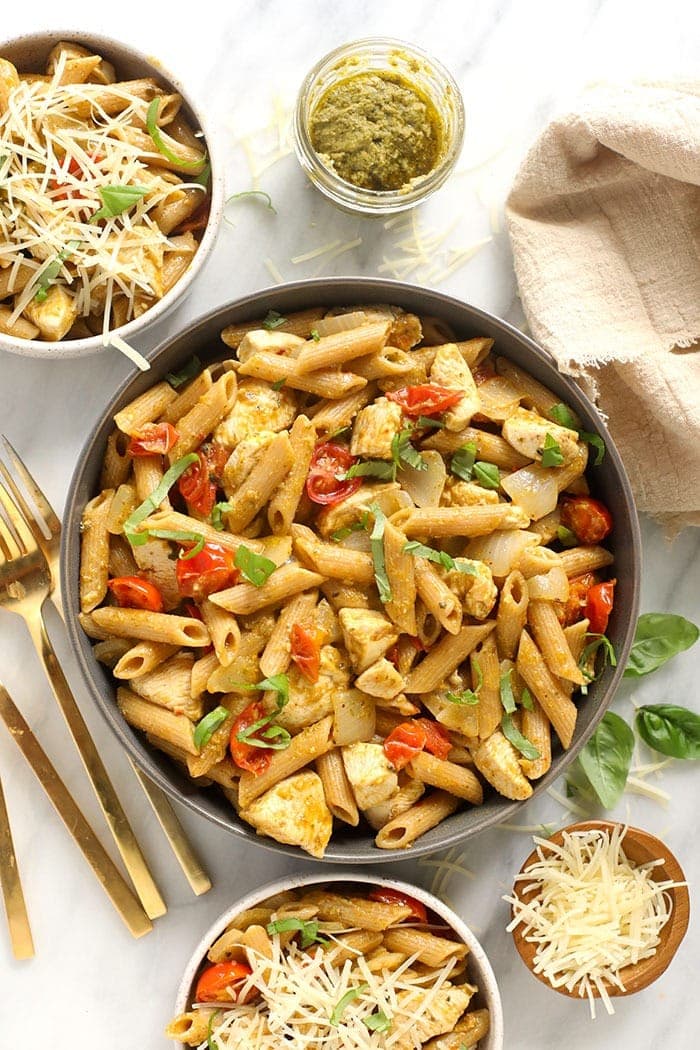 Fresh Chicken Pesto Pasta
If there is one dish that everyone loves it's bound to be pesto pasta! This chicken pesto pasta tastes like summer and is packed with veggies and protein. You just can't go wrong.
You can make this chicken pesto pasta on a weeknight for your family, for a fancy dinner party with a glass of red wine, or for an easy dinner for a new mom. Basically, it's the perfect meal.
Everything you need for this chicken pesto pasta recipe is probably in your pantry or refrigerator right now! Here is everything you'll need.
Penne pasta- we love serving this chicken pesto with penne pasta, but feel free to use any type of pasta that you'd like.
Salt– you're going to need salt to salt the pasta water, the chicken, and the pesto! Don't skip it!
Olive oil– we love the flavor that olive oil gives the pesto in this recipe. It's what we use in the pesto and to sauté the chicken and veggies. That being said, feel free to use the oil that is right for you.
Chicken breast– find the freshest chicken that you can find!
Italian seasoning– the key to having both flavorful pasta and flavorful chicken is to make sure you season the chicken before you cook it. It really does make a difference.
Yellow onion– the onion adds a bit of sweetness and crunch to this delicious pasta.
Garlic– oh baby, you can't have pesto without garlic.
Chicken broth– the chicken broth is the base of the sauce and it adds so much flavor to this dish.
Cherry tomatoes– we add the cherry tomatoes right at the end of this recipe so they are just warmed and plump instead of overcooked and chewy.
Starchy water– the starchy water thickens the sauce and helps the sauce stick to the pasta one you add it.
Pesto– we use our homemade pesto recipe for this pasta, but if you don't have the time feel free to use store bought pesto.
Ground pepper– top this pasta with freshly ground pepper!
How to Make Chicken Pesto Pasta
There is nothing better than a big bowl of hot pesto pasta. It is not as complicated as you think. With all the right ingredients, you will be ready to make this pasta in no time! Let's break it down.
We have a classic and simple homemade pesto recipe on Fit Foodie and that is what we use when we mix up a tasty pesto recipe. You really just throw everything in a blender or food processor and let it go.
After prepping the pesto, it's time to prep your ingredients. I like to prep things in phases.
It doesn't have to be a ton of salt, but just a pinch or two of salt in the water will add a little extra flavor to the whole dish, which will really show when the dish is done.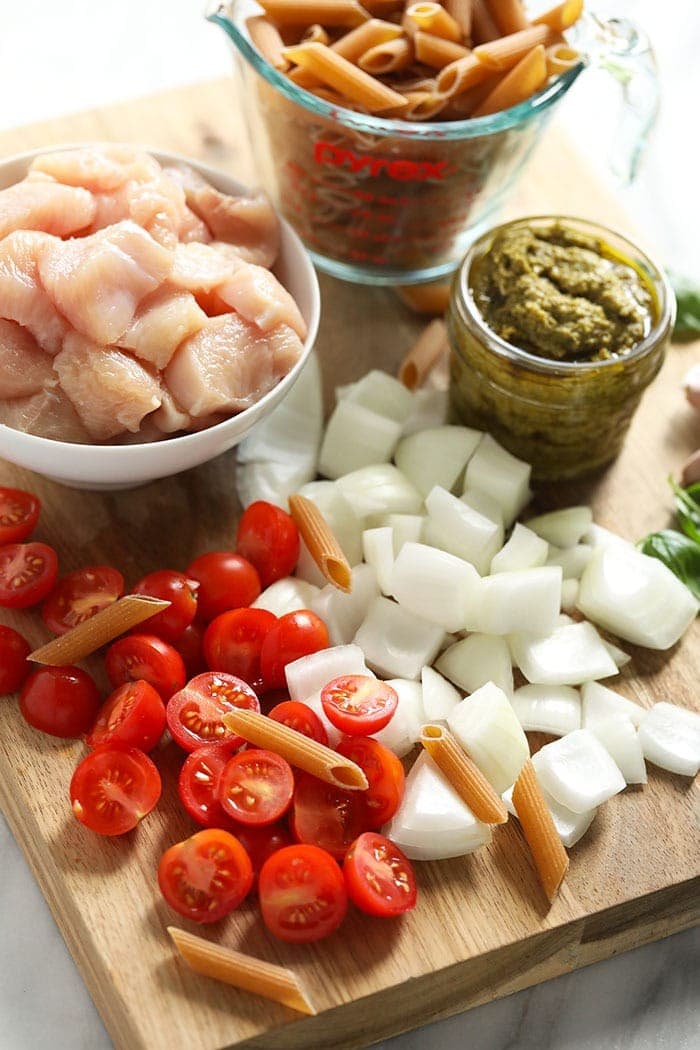 There are a couple of different steps to this pasta sauce.
I always make sure to season in layers when it comes to pasta dishes. Seasoning the chicken will give this pasta an extra punch of flavor at the end. And? You'll end up using less salt if you salt a little bit throughout the cooking process.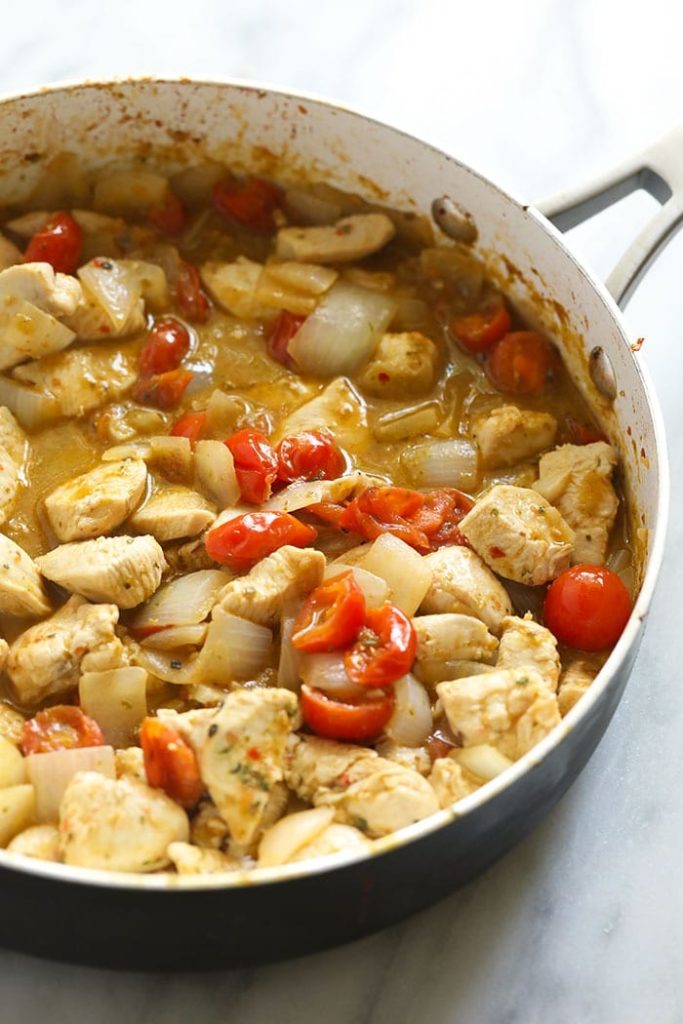 BOOM. You've got yourself a big batch of pesto chicken pasta. Top the pesto chicken pasta with fresh parmesan and fresh basil and enjoy.
Chicken Pesto Pasta 101
If you want a creamy chicken pesto pasta drizzle 1-2 tablespoons of heavy cream into the pesto sauce and whisk it into the sauce to make it creamy and delicious.
Yes, you can freeze pesto to use for later. Make a big batch of pesto at the end of the summer with fresh basil and store it for later.
Make this recipe vegan by substituting the chicken for tofu and then replace the homemade pesto with our delicious vegan pesto recipe.
We use chicken broth to add a base for the pesto pasta and it adds tremendous flavor. Once the broth has reduced by half add the tomatoes.
Serve this pasta in a large bowl and serve it family-style with delicious warm, crunchy bread and a bottle of red wine. You just can't go wrong!
Let the chicken pesto pasta cool before placing it in an air tight container and place it in the fridge for up to 5 days.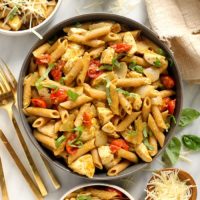 Chicken Pesto Pasta
Make this chicken pesto pasta recipe for dinner this week. It is made with fresh pesto, chicken breast, and a delicious thick sauce. 
Prep: 15 minutesCook: 20 minutesTotal: 35 minutes
Fat 18
Carbs 11
Protein 1
Yield 6 1x
8 oz. whole wheat penne pasta
1/8–1/4 teaspoon salt
3 tablespoons olive oil, divided
1.5 lbs. boneless, skinless chicken breast (cut into 1-inch chunks)
1 tablespoon Italian seasoning
1 medium yellow onion, chopped
3 cloves garlic
1/2 cup chicken broth
10 oz. cherry tomatoes, sliced in half
3 tablespoons starchy water
6 tablespoons pesto, divided
1/8 teaspoon ground pepper
toppings: fresh basil and parmesan cheese
First, fill a large pot about 3/4 of the way full of water and add about 1/8-1/4 teaspoon of salt to the water. Bring to a boil.
Add pasta and let the pasta cook for about 7-9 minutes or until pasta is al dente. Remove about a 1/4 cup of starchy pasta water and set it aside for later.
Strain the water from the pasta and set it aside for later.
Next, heat a large skillet pan over medium/high heat. Add two tablespoons of olive oil to the pan once it's hot.
When olive oil is fragrant, add chicken and Italian seasoning. Cook the chicken for about 4-6 minutes or until chicken is fully cooked. Remove from the pan.
Add another tablespoon of olive oil to the same pan and then add the onions. Cook for about 2 minutes, stirring frequently.
Next, add the garlic to the onions. When garlic is fragrant add the chicken broth to the pan.
Cook mixture for 3-4 minutes until the broth reduces to half and then add cherry tomatoes and let them cook for 2 minutes.
Finally, add starchy water and pesto to the pan and bring the mixture to a boil.
Lastly, add cooked chicken and pasta to the pan. Mix until all ingredients are covered with pesto sauce.
Season with ground pepper and top with fresh basil and parmesan cheese.
Serving Size: 1/6
Calories: 311
Sugar: 1
Fat: 18
Carbohydrates: 11
Fiber: 2
Protein: 1
Author: Category: DinnerMethod: Stove topCuisine: Italian
Keywords: pesto chicken pasta