Making and pickling your own cucumber pickles is easy. Here's a pickle recipe for refrigerator pickles that you can make at home any time you want.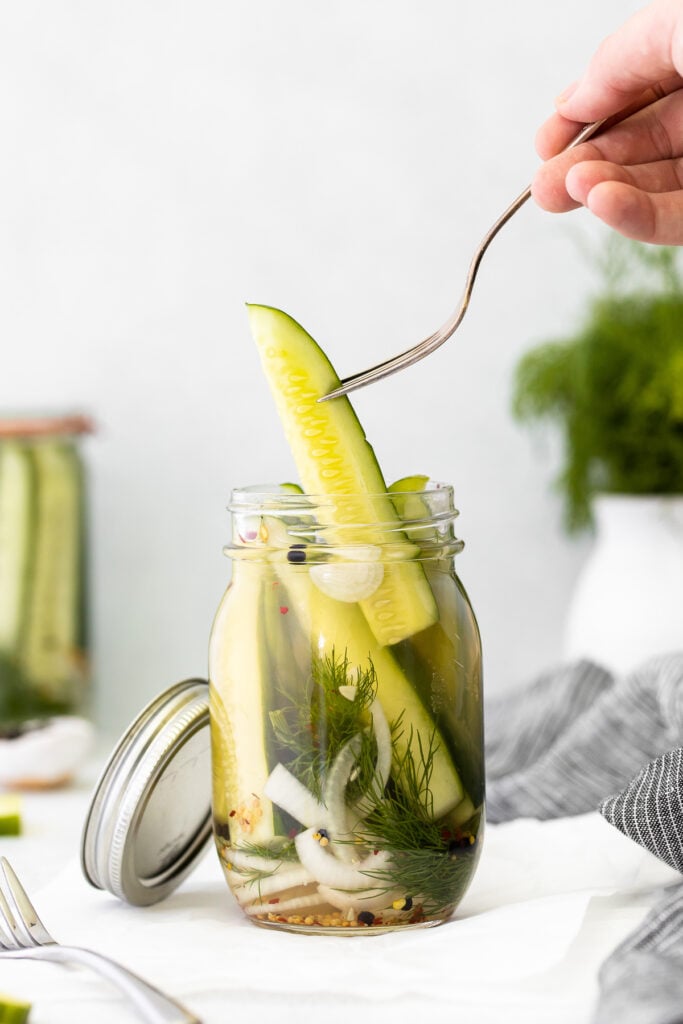 The Crunchiest Pickle Recipe
Is there anything better than having a couple jars of delicious and crunchy refrigerator pickles in the fridge at all times? NO! We love this refrigerator pickle recipe because it leaves you with crunchy dill pickles every time.
You can make a double or even triple batch of these pickles and give them as gifts or just have pickles on hand at all times!
These refrigerator pickles only involve boiling a vinegar brine that will then be poured over the pickles versus a traditional pickle recipe where you boil a bunch of sugar and vinegar, pour it over the pickles, and then remove air and seal the mason jar top.
All the ingredients for this pickle recipe are classic ingredients for a classic dill pickle. We prefer a salty, crunchy, and dilly pickle. Feel free to make this pickle recipe your own by changing the ingredients up.
white vinegar
water 
white sugar 
garlic cloves
kosher salt
fresh dill 
mustard seed 
white onion
coriander seeds
peppercorns
cucumber
red pepper flakes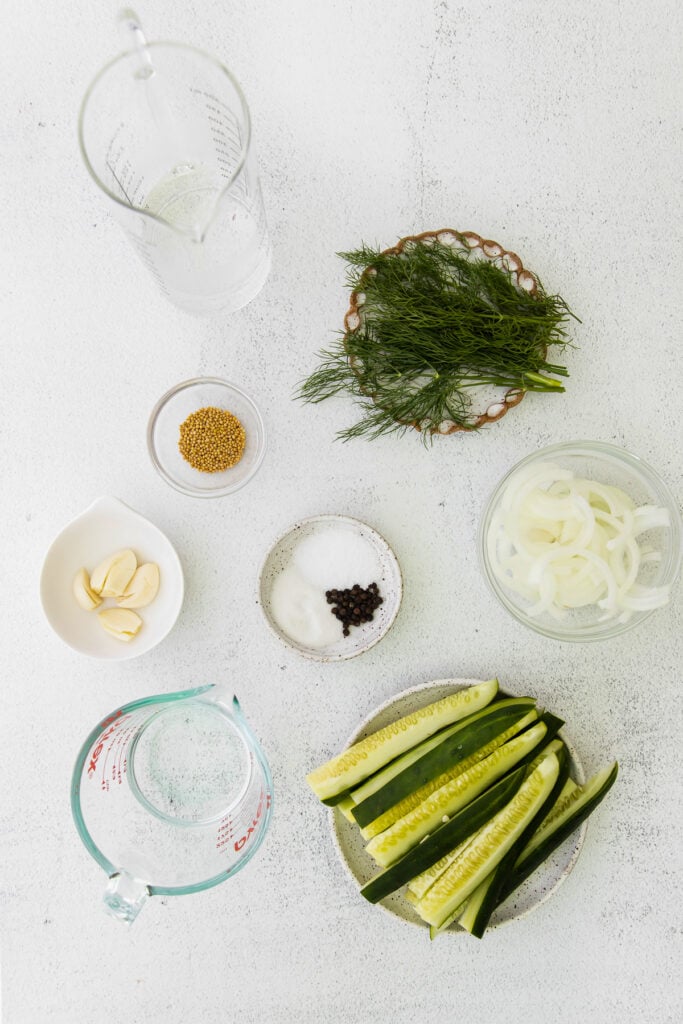 We suggest preparing the mason jars before making the vinegar brine. Add the fresh dill, mustard seed, white onion, coriander seeds, and peppercorns into two mason jars. Add the sliced cucumbers.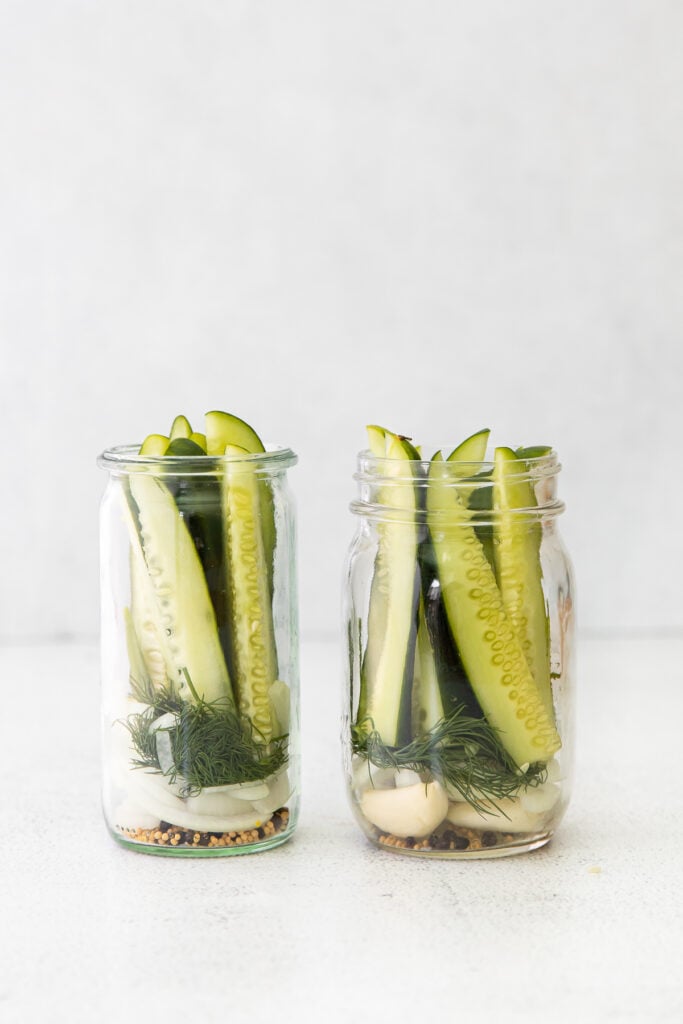 Prepare the vinegar brine by adding the vinegar, water, sugar, and salt to a small saucepan. Whisk the ingredients together until combined.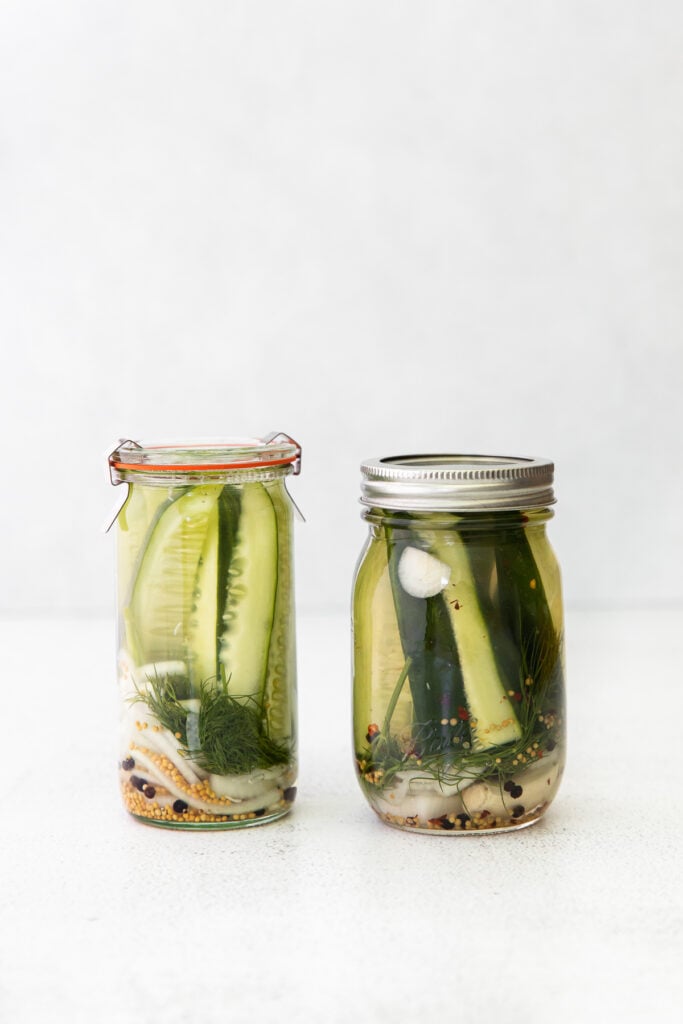 Carefully pour the vinegar mixture over the cucumbers until all the ingredients are covered. Let the mixture cool completely before covering the mason jars with a lid and tighten them.
Place the pickles into the refrigerator for 24-48 hours before giving them a try!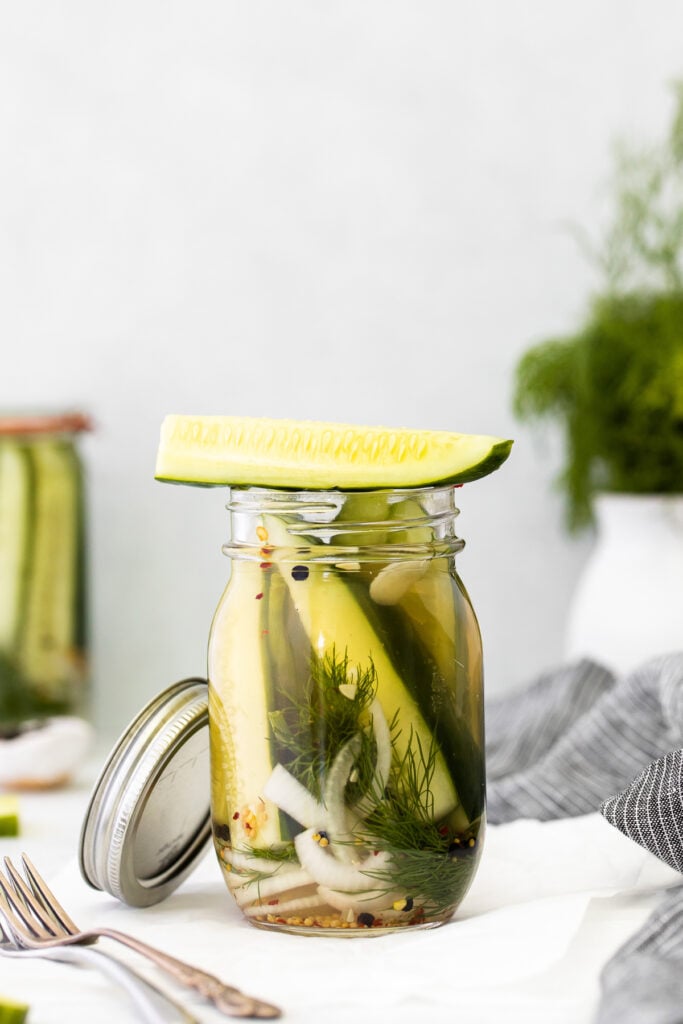 How do I keep my pickles crunchy?
There are a few different ways you can keep your pickles crunchy.
Buy cucumbers that aren't over ripe. The older they are, the mushier they will be.
Don't keep the pickles in the refrigerator for too long.
Wait to put the pickles in the refrigerator until they are completely cooled.
Make them spicy!
We added some red pepper flakes to one of our jars, but if you want to make these pickles spicy your way, go ahead!
try adding jalapeño rounds
slice up some Serrao peppers
Make the sweet pickles.
Some of you like a sweeter pickle! Here are a few ways you can make your pickles sweeter.
Add a bit more sugar to your vinegar mixture.
Try adding honey!
Use a sweet onion to your mason jars.
Other Ingredients You Can Add
Go ahead and add other delicious vegetables to the jar to pickle. We love our quick pickled spicy peppers, so a combination would be delicious. Check out other vegetable options below.
carrots
bell peppers
celery
Serving Suggestions
This pickle recipe is perfect to make just for a savory snack. We love adding them to sandwiches because they add great flavor and crunch. However, these pickles are delicious with any of the meals below!
Black Bean Burger Recipe- You are going to love these easy and flavorful black bean burgers. They're made with quick roasted garlic, an entire can of black beans, quinoa, and delicious spices.
Chicken Burger Recipe- If you are looking for a staple chicken burger recipe, this is it! These ground chicken burgers are so flavorful and moist and topped with our secret burger sauce.
Smoked Chicken Salad- Got leftover smoked chicken? Make this super simple smoked chicken salad recipe for an easy way to re-purpose your leftovers!
Wisconsin Brats- Ever heard of beer brats? Beer boiled brats are by far the most delicious way to cook brats. Start by boiling your brats in beer and then finish them off with a sear on the grill, some ketchup & mustard, and relish too!
These pickle recipe will last up to 2 weeks in the refrigerator is sealed appropriately!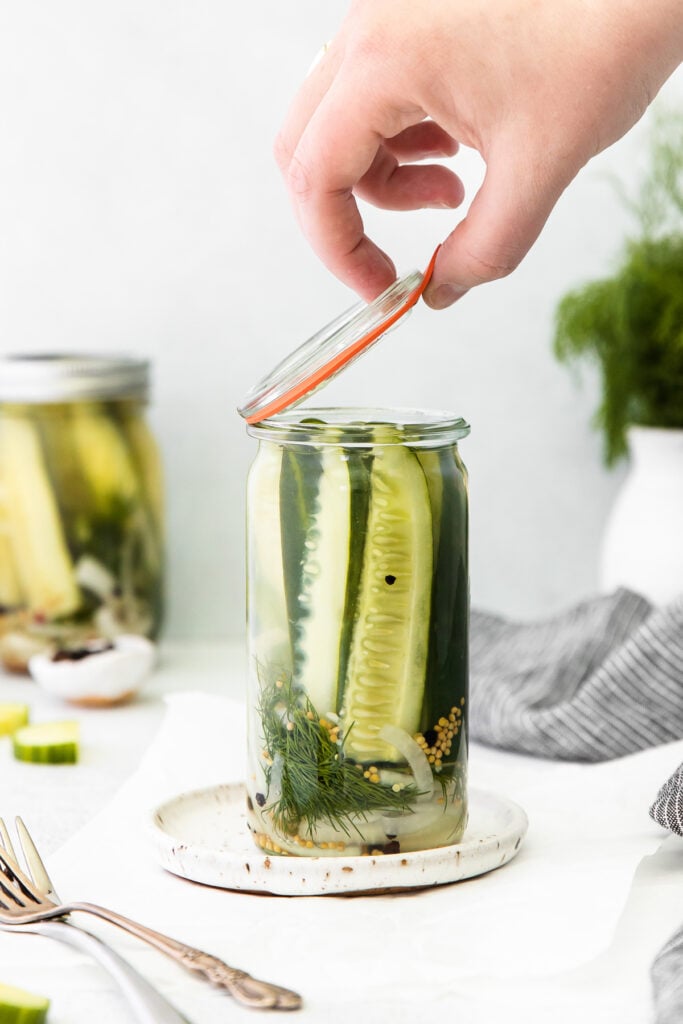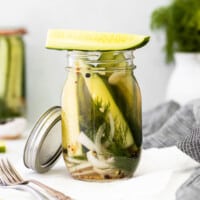 Refrigerator Pickle Recipe
This simple pickle recipe doesn't require any special pickling equipment. These crunchy refrigerator pickles are ready to go in just 2 days!
Prep: 10 minutesCook: 5 minutesTotal: 15 minutes
Fat 0
Carbs 4
Protein 1
Yield 8 1x
½ cup white vinegar
¾  cup water 
1 teaspoon white sugar 
4 cloves garlic, smashed 
1.5 teaspoons kosher salt
4 sprigs fresh dill 
2 teaspoons mustard seed 
½ small white onion, sliced 
¼  teaspoon dried coriander seeds
½ teaspoon peppercorns
1 large cucumber, cut into spears*
Optional: ¼ teaspoon red pepper flakes (for spicy pickles)
Add the vinegar, water, sugar, and salt to a small saucepan and whisk. 
Bring the mixture to a boil and remove from heat once the sugar and salt have dissolved. Set aside. 
Next, prepare two clean mason jars for the refrigerator pickles. Divide the fresh dill, mustard seed, white onion, coriander seeds, and peppercorns into the two mason jars.
Slice cucumbers into spears, making sure they aren't too tall for the Mason jars. Then, separate them into the Mason jars.
Carefully divide the vinegar mixture into both jars, making sure that the cucumbers are covered with the liquid. 
Let the vinegar mixture cool before covering the the jars tightly. Then, shake the contents of the jar until mixed.
Place the jars in the fridge for 24-48 hours before trying the pickles.
Be sure the cucumbers are cut so that they fit into whatever mason jars are being used.
Serving Size: 1/8
Calories: 19
Sugar: 2
Sodium: 212
Fat: 0
Carbohydrates: 4
Fiber: 1
Protein: 1
Cholesterol: 0
Author: Category: SideMethod: Stove topCuisine: American
Keywords: Refrigerator pickle recipe