Turn on the grill and throw on some zucchini! Making grilled zucchini is easy and if you do it right you'll end up with grilled zucchini with a little crunch rather than a soggy mess. Grab the zucchini from your garden or the grocery store and get grilling!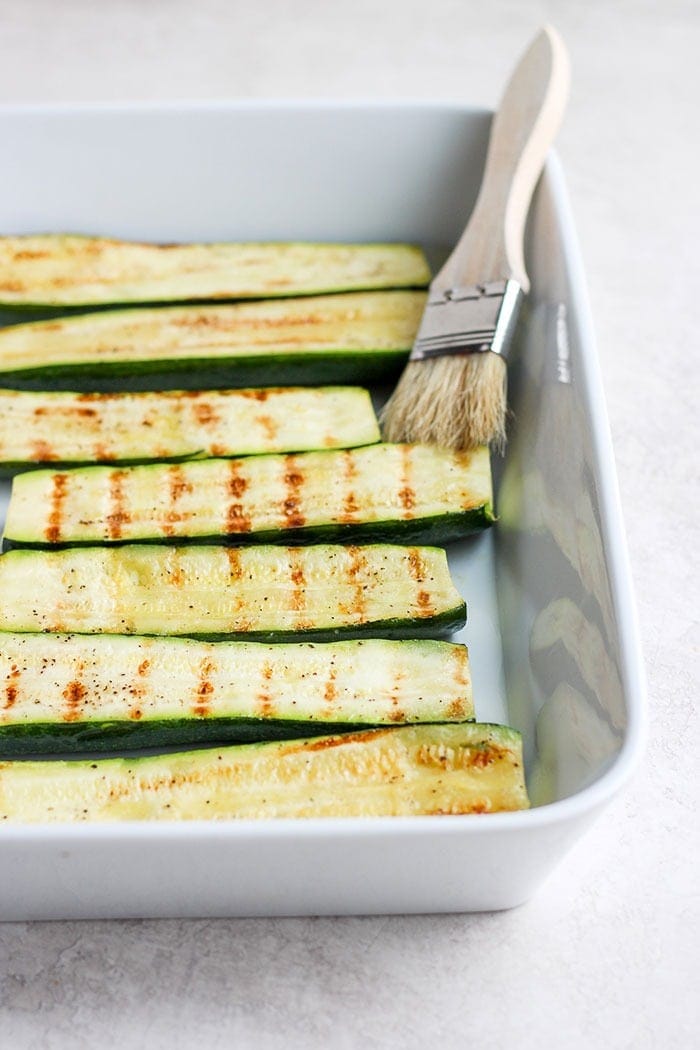 Grilled Zucchini Recipe
Our favorite way to prepare zucchini is on the grill. It is the perfect side dish to any bbq dinner! All you need is a little olive oil, salt, and pepper to perfectly season your zucchini and you are ready to prepare this grilled zucchini recipe.
The only risk you run when preparing this grilled zucchini recipe is over grilling. Don't worry! We have you covered. Follow the steps below for the most perfect grilled zucchini.
How do you know what size zucchini to buy and grill? Honestly, any size zucchini will due. In a perfect world, you would choose small to medium sized zucchinis because they have smaller seeds a lesser water content.
After you have picked out what zucchinis to use, wash the zucchinis and half them lengthwise (hot dog style). Lay each half onto a baking sheet and drizzle them with olive oil and salt and pepper.
Seasoning zucchini with salt and pepper leaves you with very simple and delicious zucchini.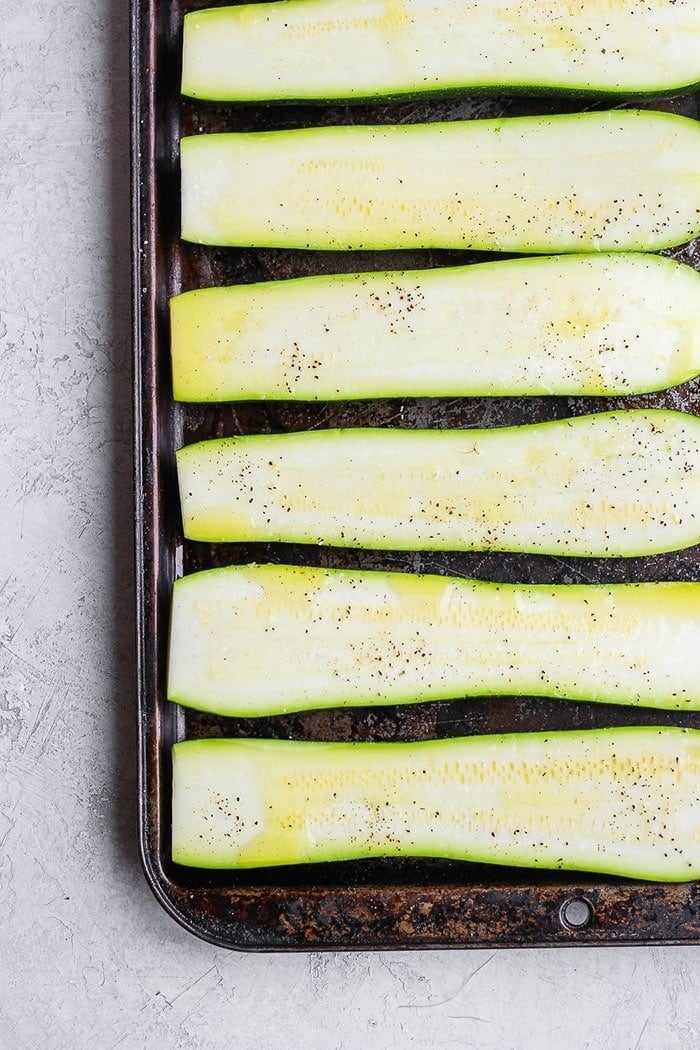 Next, place each zucchini half on to the tin foil and grill for 10-12 minutes flipping ever 4 minutes. Remove the zucchini from the grill and enjoy!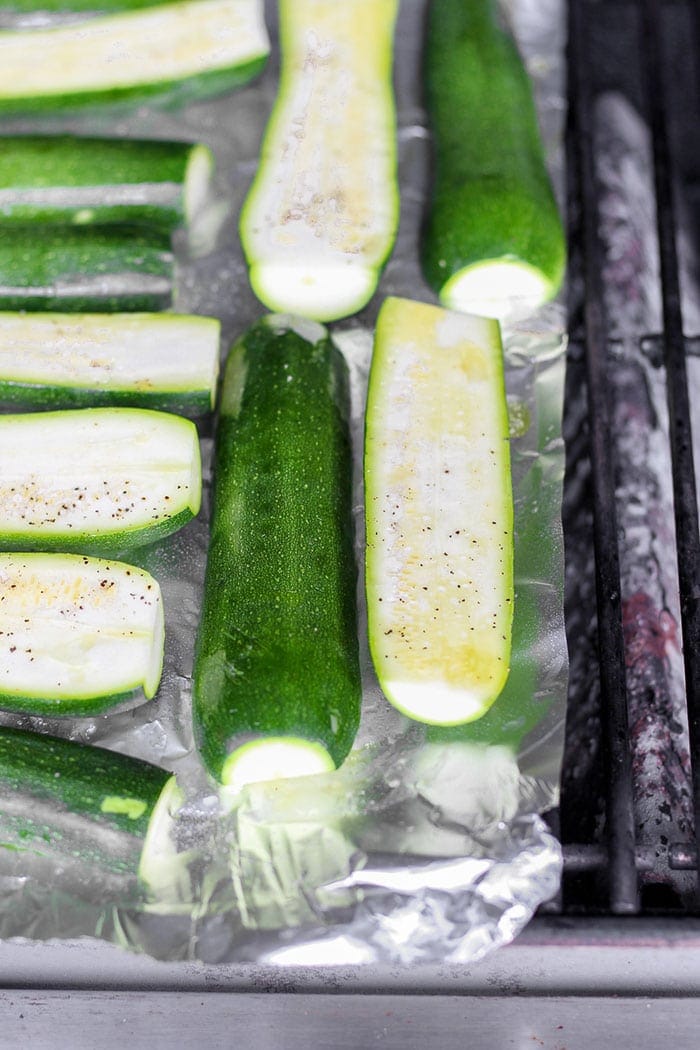 Sometimes zucchini has a ton of seeds and water content. That may sometimes cause grilled zucchini to become mushy. If you do suspect that there are too many seeds in your zucchini halves, use a spoon to gently scoop them out.
You want to get your zucchini nice and grilled up. That may mean grill marks or just golden brown vegetables. We love the flavor that olive oil gives zucchini, but feel free to use whatever oil you would like!
A crunchy zucchini is better than mush. If you are going to eat your zucchini immediately grill zucchini for 10-12 minutes. However, if you are planning to use the zucchini in another recipe like pasta or for a side dish that you are going to reheat, undercook the zucchini by grilling them for only 8-9 minutes.
If you do not have a grill, have no fear! You can follow this recipe, but rather than put the zucchini on the grill, place zucchini on a baking sheet and into the oven. Bake at 400ºF!
leftover zucchini?
Do you have more zucchini to use up? We have plenty of healthy zucchini recipes on FFF! Check out this lasagna zucchini casserole, these taco stuffed zucchini boats, or this coconut oil zucchini bread.
Let this grilled zucchini cool completely before placing it in an air tight container in the refrigerator for up to 5 days.
Grilled zucchini would be delicious chopped up and tossed into pasta or even makes a great side dish for any meal. Serve this grilled zucchini with any of the recipes below.
Grilled bbq chicken breasts- Grilled BBQ Chicken is hands-down one of my favorite summer meals. Whip up this healthy grilled chicken breast recipe on the grill with your favorite bbq sauce!
Lemon dill salmon burgers- These are the most delicious salmon burgers made with flakey salmon, fresh lemon, and dill. Grill them, pan fry them, or bake them!
Grilled chicken legs- Ever wonder how to grill chicken legs? Look no further because these are the BEST grilled chicken legs in all the land. We'll teach you how to make the most amazing chicken dry rub and give you a step by step tutorial for the best grilled chicken legs recipe ever.
Smoked Chicken Thighs– Seriously delicious smoked chicken thighs made with an easy, flavorful chicken marinade!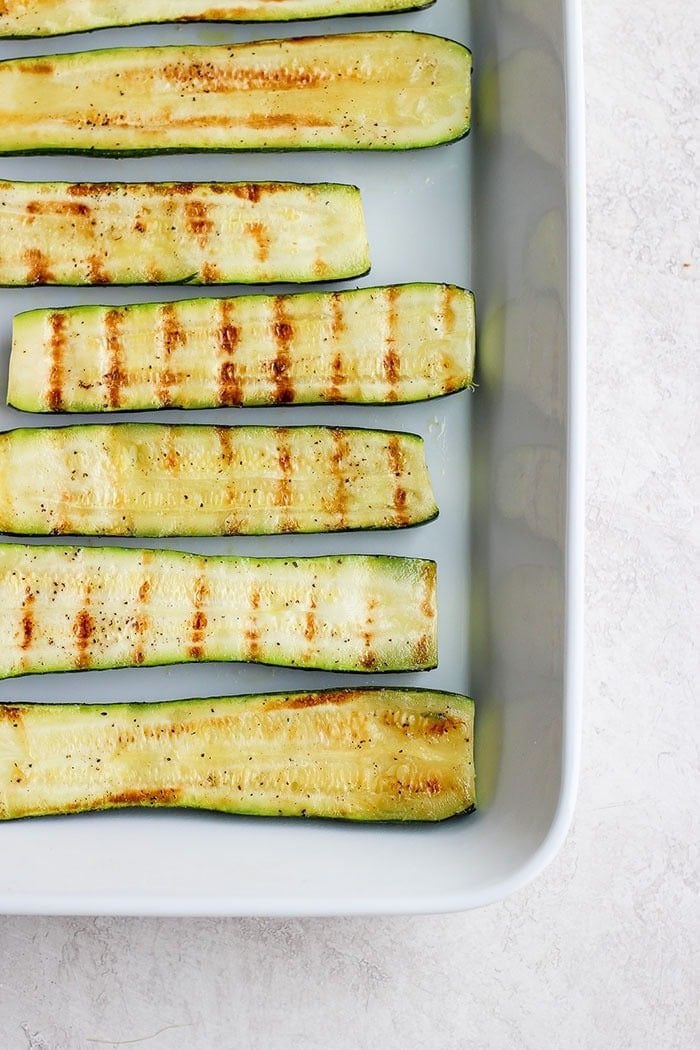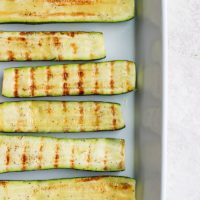 Grilled Zucchini
Make this grilled zucchini recipe as a side dish to all of your favorite bbq recipes!
Prep: 10 minutesCook: 12 minutesTotal: 22 minutes
Fat 5
Carbs 0
Protein 2
Yield 6 servings 1x
6 medium zucchinis, washed and dried
2 tablespoons olive oil
1/4 teaspoon salt
1/4 teaspoon pepper
Preheat the grill to 400ºF and lay a piece of tin foil down on the grill.
Next, chop off the ends of your zucchinis and cut in half lengthwise (hot dog style) and place zucchini face up on a baking sheet.
Drizzle each zucchini half with olive oil and season with a generous amount of salt and pepper.
Spray tin foil with cooking spray and then place zucchini flat side down onto the tin foil. Close the lid to the grill.
Grill at around 400ºF on direct flame for around 10-12 minutes flipping zucchinis every 4 minutes.
Remove from grill and enjoy!
Serving Size: 1/6
Calories: 73
Sugar: 5
Fat: 5
Carbohydrates: 0
Fiber: 2
Protein: 2
Author: Category: Side DishMethod: GrilledCuisine: American
Keywords: grilled zucchini
Photo credit: The Wooden Skillet