No matter the time of year BBQ Pulled Chicken is the way to go for any gathering. So, take out that crock pot, and let's make the easiest Slow Cooker Pulled Chicken recipe of all time.
If you love slow cooker pulled chicken, then you'll love these shredded chicken recipes too: Crock Pot Honey Garlic Chicken, Instant Pot Moroccan Chicken, and Greek Yogurt Chicken Salad.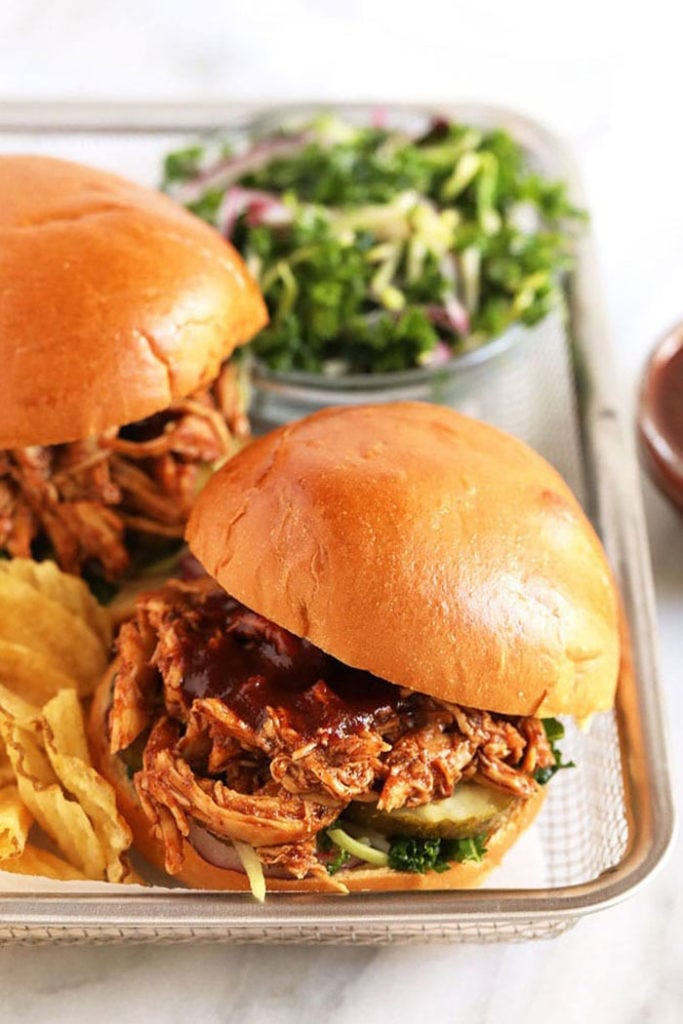 Pulled Chicken Crock Pot is the Best Chicken
Shredded chicken is one of my favorite ways to eat chicken! I especially love it if it's slow cooker pulled chicken because it's super easy to make and the clean-up is a cinch.
This BBQ pulled chicken recipe can be used in so many ways beyond a sandwich. You can eat it in a meal prep bowl, in a burrito, by itself, as tacos, in a lettuce wrap, on toast, the list goes on!
What does this slow cooker pulled chicken taste like?
This slow cooker pulled chicken is flavored with your favorite bbq sauce. So, it will ultimately take on the flavor of the sauce you use.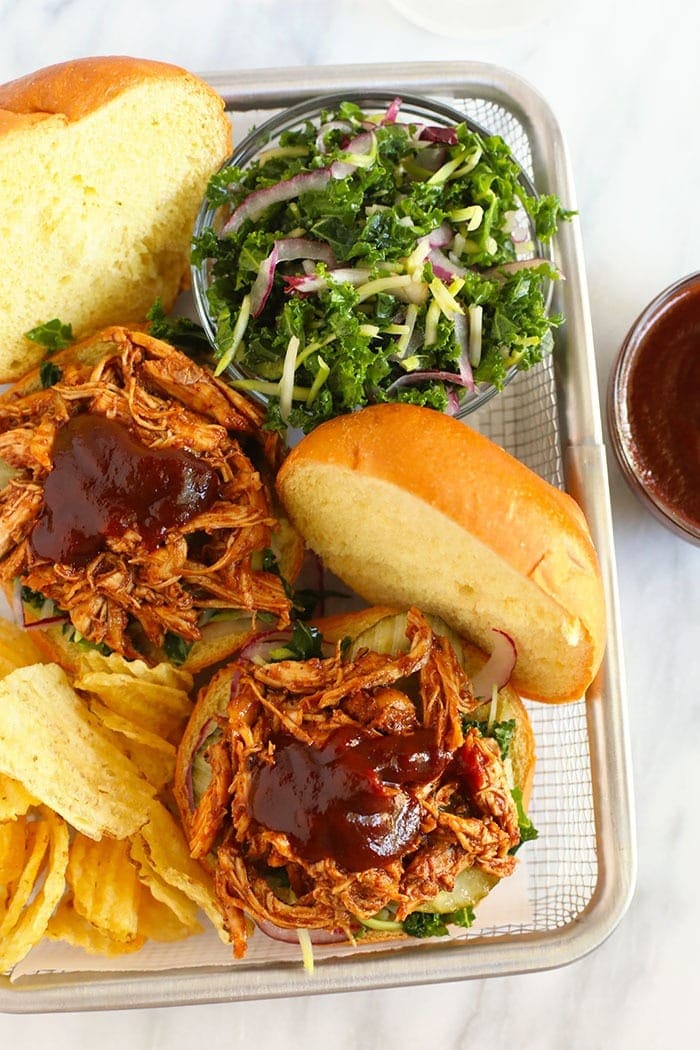 How to Make Pulled BBQ Chicken Crock Pot
We're going to teach you how to make bbq pulled chicken in the crock pot. Secret: it's so easy! We're also sharing some serving suggestions including side pairings and ways to eat it.
It all starts with a rub. If you're looking to get the most flavor out of your pulled chicken, we highly recommend NOT skipping this step. Giving your chicken breasts a nice spicy rub down before slow cooking will give it so much flavor later on.
For this rub, we used some basic spices. Here's what you need:
1 teaspoon chili powder
1 teaspoon garlic powder
1/8 teaspoon ground paprika
1 teaspoon Italian seasoning
1/8 teaspoon salt
1/8 teaspoon pepper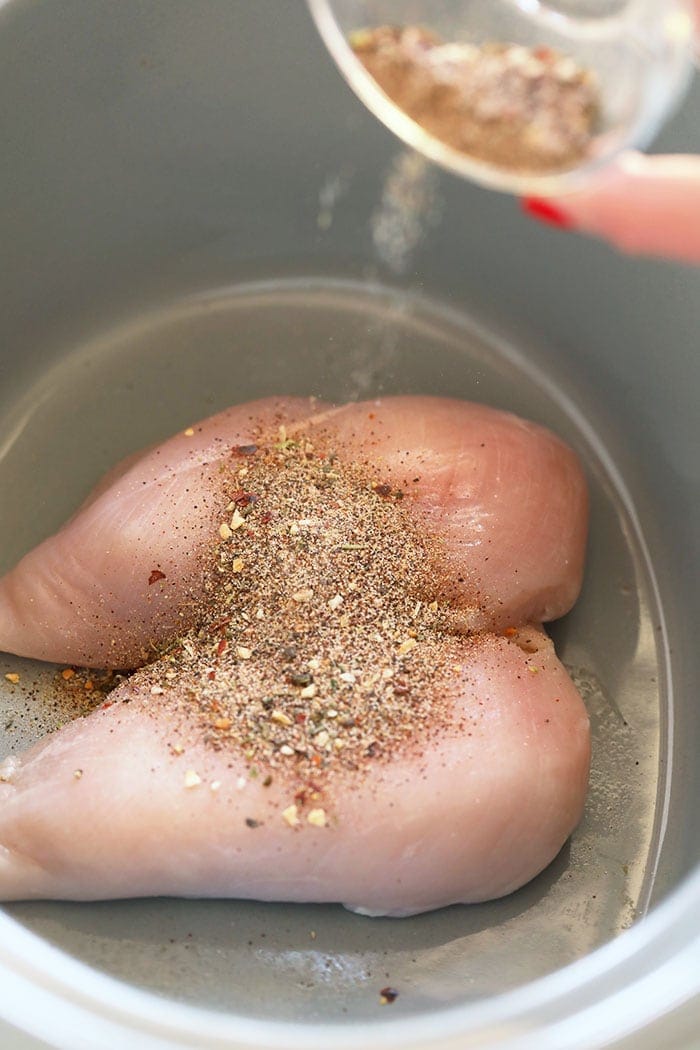 Next up, it's time to add some BBQ sauce to the top of your chicken breast and slow cook! We have a delicious homemade BBQ sauce on FFF, but you can use whatever kind you like.
When cooking chicken in the slow cooker it's all about low and slow. We have two cooking options for you. Slow cook your pulled chicken on…
Do I need to add any liquid to my slow cooker with the chicken?
You do not HAVE to add any other liquid to your slow cooker because the chicken will give off a lot of moisture. However, we like to add a few tablespoons of water or broth for added moisture.
Once the chicken is fully cooked and 165ºF, shred your chicken breast right in the slow cooker with 2 forks. Make sure to keep the excess liquid in the slow cooker as this will keep things moist and delicious.
We like using 2 forks to shred our chicken, but many people like to place their cooked chicken breast into a hand mixer and shred that way!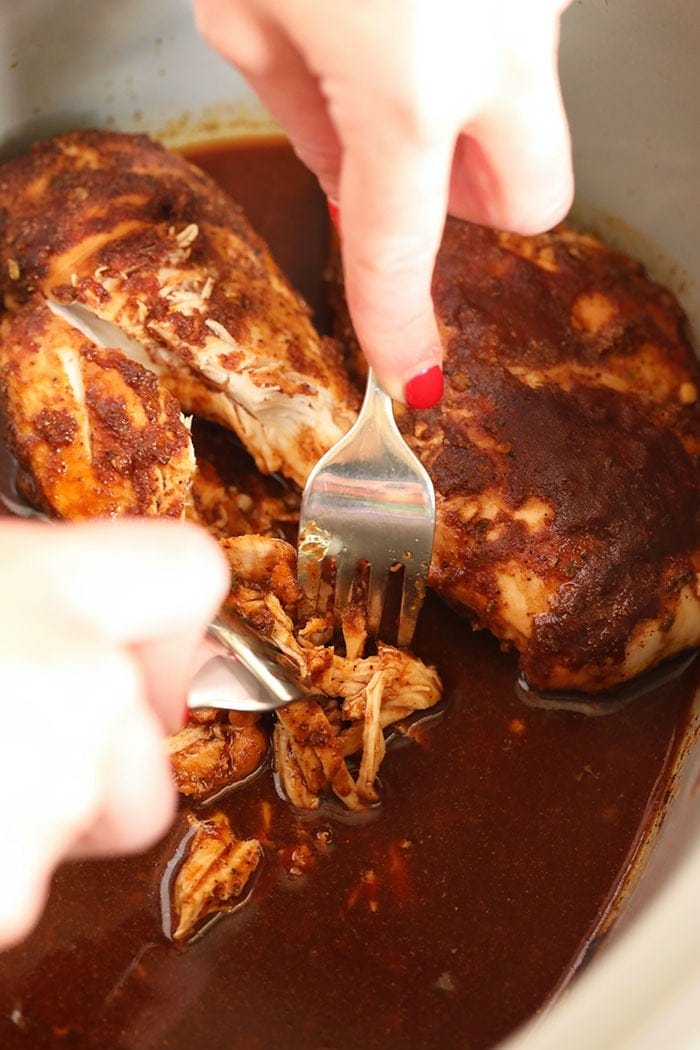 Once your chicken has been pulled, it's time to add more bbq sauce. No one likes dry bbq pulled chicken. Add about 1/3 cup to 1/2 cup more of bbq sauce and mix everything together!
We also added a touch of vinegar because it really brings out the delicious flavor of the bbq sauce. Option to add a vinegar-based hot sauce OR pickle juice instead!
Our favorite way to eat slow cooker pulled chicken is as a sandwich with all the fixings. Here's what you need for what's photographed:
Homemade slaw: buy your favorite premade slaw mix and add onion, pickle juice, lime, and salt.
Pickles: Pickles make the world go round. A few rounds will really make this sammie!
Chips: Because everyone loves a crunch, serve your pulled chicken sandwich next to a handful of your favorite chips.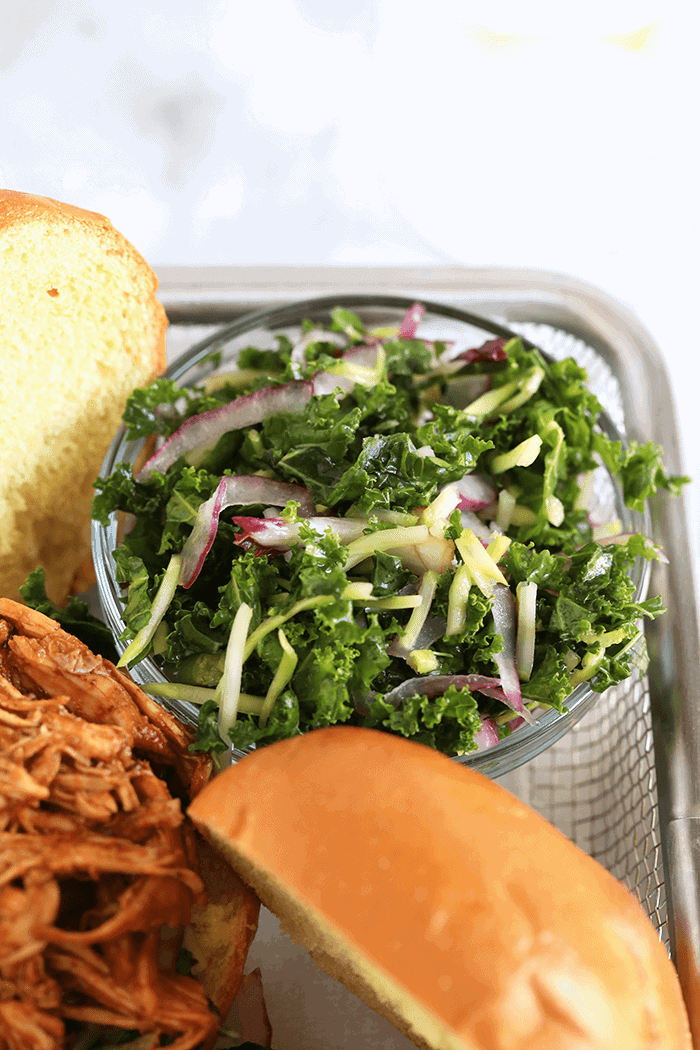 Serving Suggestions
Whether you're making bbq pulled chicken sandwiches or using this chicken in a bowl, you're going to want to serve it with some delicious healthy sides! Here are some suggestions:
high for 2 hours
low for 4-6 hours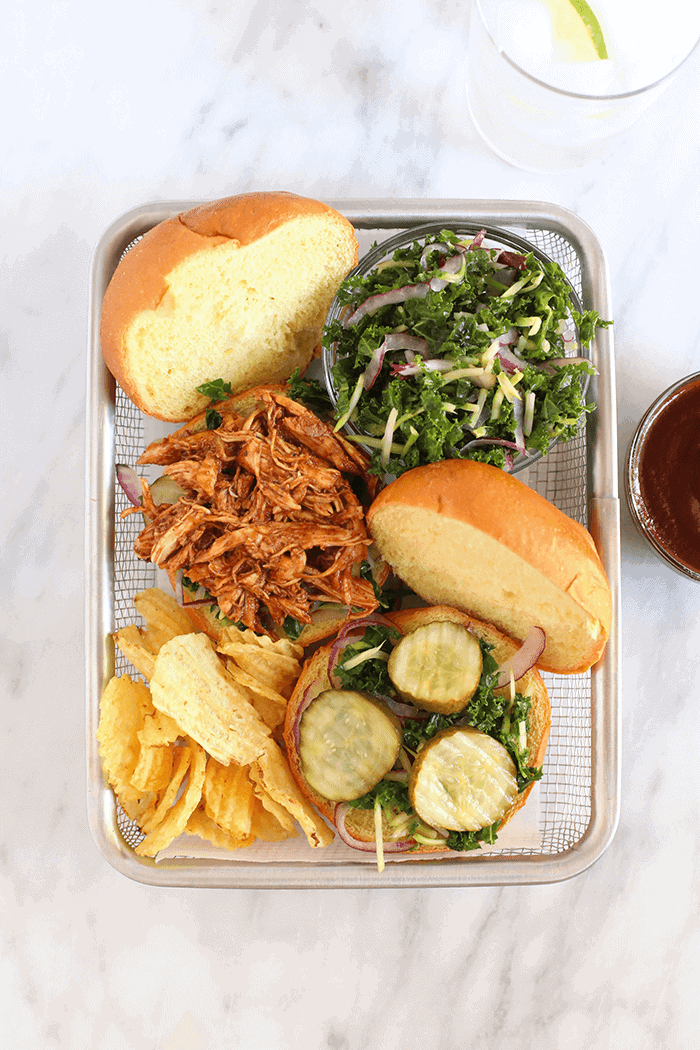 Good news! For the most part, this BBQ pulled chicken is healthy. It is…
low fat (just 4g per serving)
high protein (22g per serving)
can be lower sugar depending on what BBQ sauce you use.
So? What can make this even healthier? Use a bbq sauce that is lower in sugar or consider making your own bbq sauce (such as this one that uses maple syrup) at home so you can monitor exactly what's in it!
Remember, "healthy" is all about balance!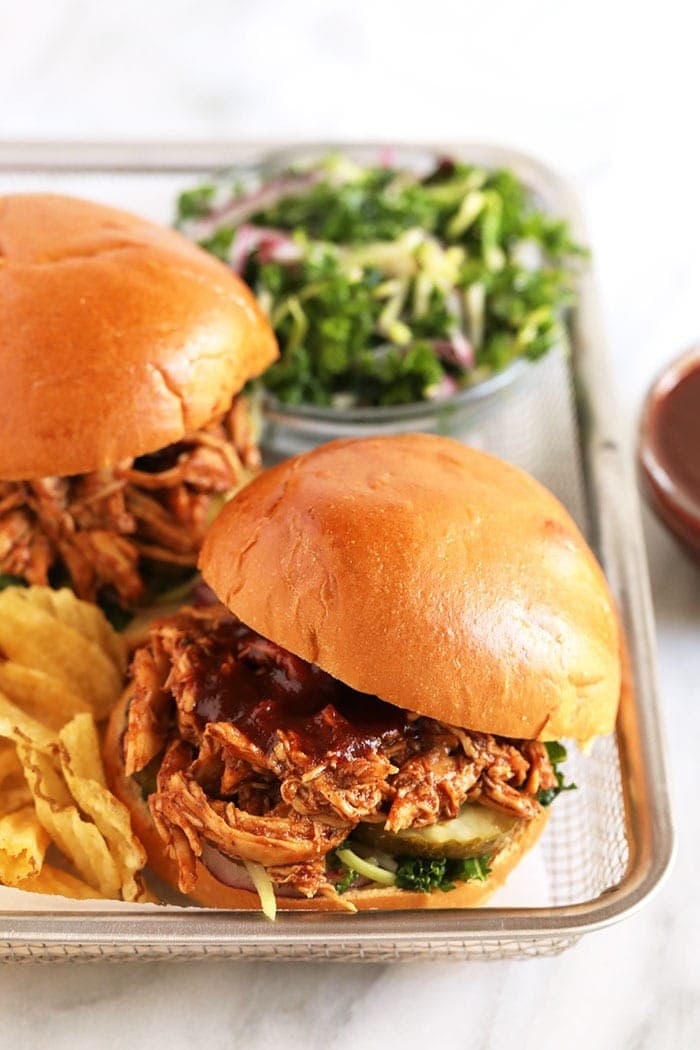 Slow Cooker BBQ Pulled Chicken (Easy Pulled Chicken Crock Pot Recipe)
An easy pulled chicken crock pot recipe made with bbq sauce! Make this saucy slow cooker bbq pulled chicken for your next get togethering or party.
Prep: 15 minutesCook: 2 hoursTotal: 2 hours 15 minutes
Fat 4
Carbs 9
Protein 22
Yield 4–6 1x
Crockpot BBQ Chicken
1 – 1.5 lb. boneless, skinless chicken breast
1 teaspoon chili powder
1 teaspoon garlic powder
1/8 teaspoon ground paprika
1 teaspoon Italian seasoning
1/8 teaspoon salt
1/8 teaspoon pepper
2/3 cup bbq sauce, divided
3 tablespoons water or chicken broth
1 teaspoon apple cider vinegar
Slaw
2 cups favorite slaw mix
1/4 medium red onion, thinly sliced
1 tablespoon pickle juice
1/2 tablespoon lime juice
salt, to taste
Other
4 hamburger buns of choice
1/4 cup bbq sauce (or more to taste)
pickles, to taste
Slow Cooker Pulled Chicken
First, prepare your crockpot bbq chicken. Mix together chili powder, garlic powder, paprika, Italian seasoning, salt, and pepper. Then, season both sides of your chicken breasts.
Spray the bottom of your crockpot with nonstick cooking spray and then add your chicken breasts.
Pour about 1/3 cup of bbq sauce on top of your chicken breasts (save the rest for later) and then add 3 tablespoons of water. Cover slow cooker.
Let cook for around 2-3 hours on high for 4-6 hours on low.
Once the chicken has fully cooked and reached an internal temperature of 165ºF, use 2 forks to shred.
Keep the liquid from the chicken and bbq sauce in the crockpot and add about 1/3 cup more bbq sauce and 1 teaspoon apple cider vinegar. Mix sauce and shredded chicken until everything is coated.
Slaw & Sandwiches
Next, prepare slaw by mixing together all slaw ingredients.
Put together your bbq chicken sandwiches by placing a generous amount of slaw on the bottom of your bun and then about 1/4 lb. of the shredded chicken. Add about 1 tablespoon more of bbq sauce (or more, if desired), and a few pickles. Put the top on your chicken sandwich and enjoy!
Nutrition information is JUST for the slow cooker pulled chicken using Annie's Original BBQ Sauce.
Serving Size: 1/4
Calories: 162
Sugar: 6
Fat: 4
Carbohydrates: 9
Fiber: 0
Protein: 22
Author: Category: Main MealMethod: Slow CookerCuisine: American
Keywords: slow cooker pulled chicken