This light and bright salmon salad recipe is made with flakey pan-seared salmon, tons of veggies, and a homemade Greek yogurt salad dressing.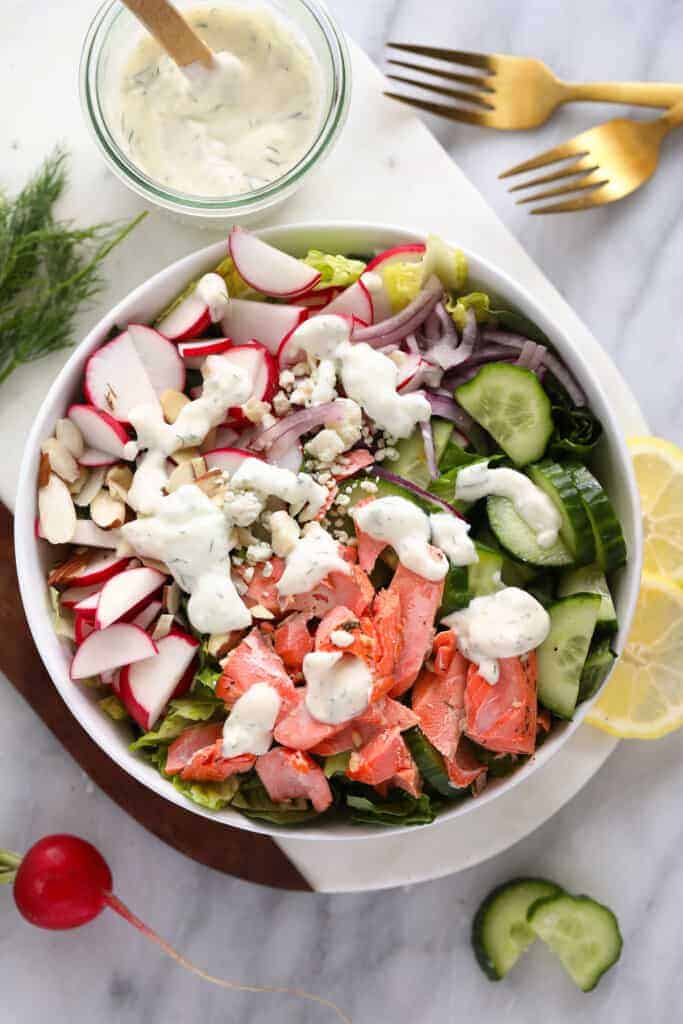 Incredible Salmon Salad
If you're looking for a high-protein, veggie-packed salad, then you are going to love this easy salmon salad recipe! Made with our favorite pan-seared salmon and Greek yogurt dressing, this salad has it all.
This is a savory salmon salad with hints of dill, lemon, and garlic. The salmon is perfectly cooked on the stovetop and the Greek yogurt dressing is so easy to make!
There are lots of salmon salad recipes out there, but this one is healthy, flavorful, and easy to make. Here's why you should make it: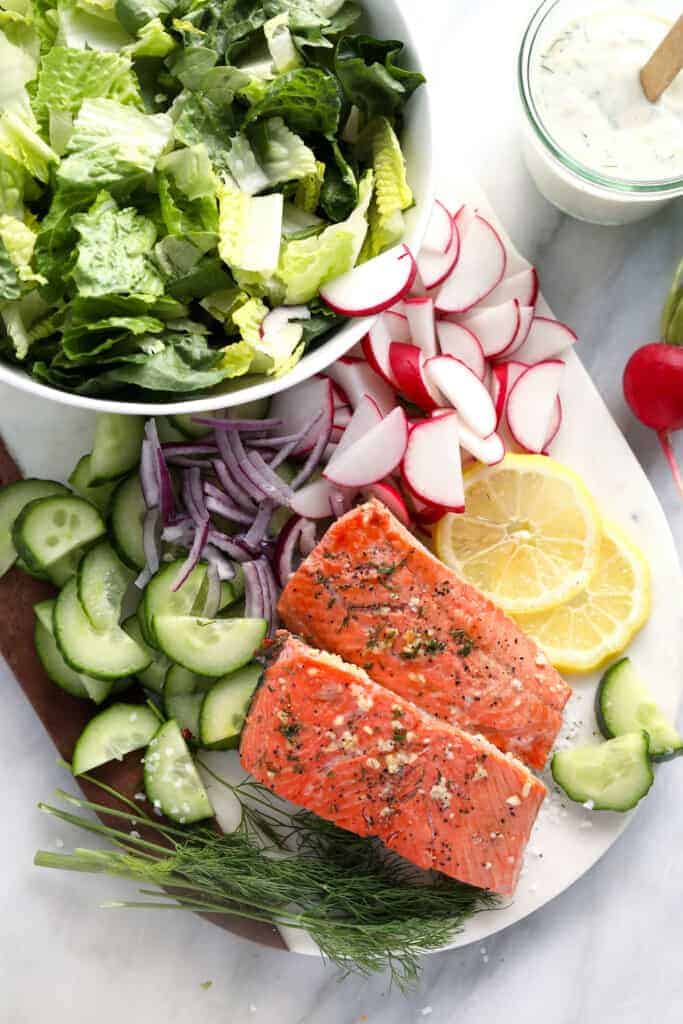 What You Need (3 Parts)
This simple salmon salad is composed of 3 different parts. Don't worry, none of it is hard to make, but it will take some planning. Here's what you'll be prepping:
Pan Seared Salmon
Greek Yogurt Dressing
Veggies, Cheese, & Nuts
Canned salmon salad no more! Today, we're using fresh, flakey, lemony, delicious salmon that is perfectly pan-seared on the stovetop in butter and lemon. We love fresh salmon over canned because it tastes better and is much fresher.
Pan seared salmon is super easy to make and is ready in less than 30 minutes. Here's what you need:
What You Need
fresh salmon fillets
salt and pepper
butter
minced garlic
lemon
fresh dill
How to Pan Sear Salmon
Heat: Heat a large, nonstick skillet or cast iron pan (we used a cast iron pan and highly recommend using one) over medium-high heat. Add butter and garlic.
Sear: Once the butter is fragrant and bubbling, place the salmon skin-side up and sear for 4ish minutes. If you have a thick piece of salmon, sear for an extra minute or two.
Flip: Flip salmon and sear for 3-4 minutes or until it's no longer bright pink in the middle and a meat thermometer reads 145ºF.
Let rest: Remove salmon from the pan and squeeze fresh lemon juice on top. Let it rest for 5 minutes before eating. Serve with fresh dill.
Don't want to pan sear your salmon? Here are some other simple salmon recipes to help you cook up your fresh salmon fillets.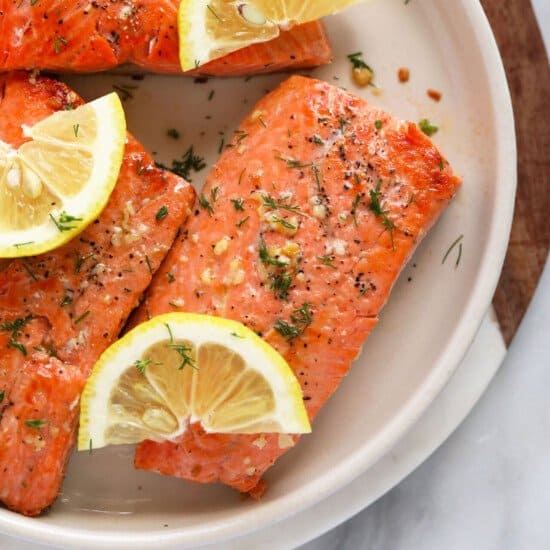 Try it!
Lemon Butter Pan Seared Salmon
Make this Lemon Butter Pan Seared Salmon with 7 ingredients and in 30 minutes or less. This salmon is pan seared in a delicious lemon butter sauce leaving it so tender and flavorful.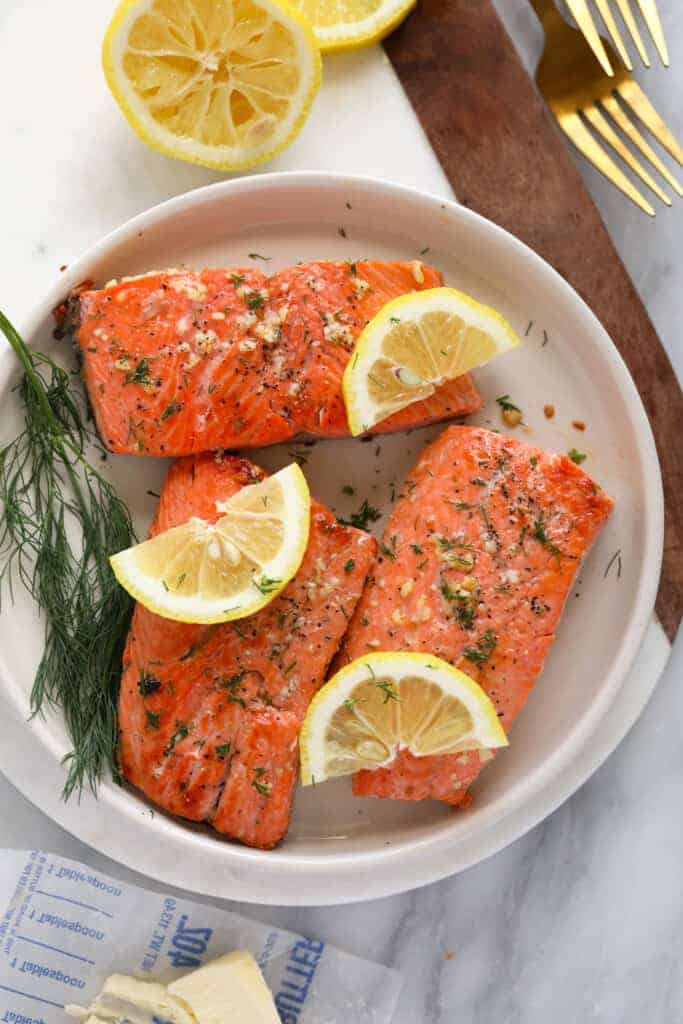 Before we jump into the veggies, nuts, and cheese, let's chat about the Greek yogurt dressing. This dressing is made with a Greek yogurt base and is flavored with dill, lemon, and garlic.
We love a creamy Greek yogurt-based dressing because Greek yogurt adds a ton of extra protein. Here's what you need:
What You Need
Greek yogurt
Lemon juice
Olive oil
Fresh dill
Garlic
Salt
How to Make Greek Yogurt Dressing
Good news. To make this dressing all you have to do is assemble the ingredients, place them into a bowl, and mix it up!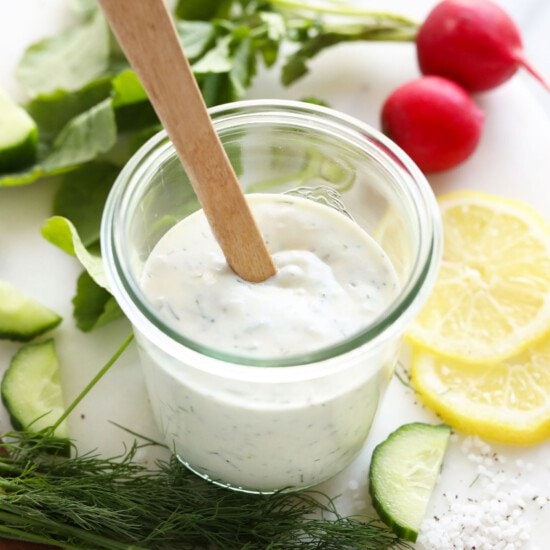 Try it!
Greek Yogurt Dressing
Whip up a batch of this Healthy Greek Yogurt Dressing made with fresh dill, lemon, and garlic and have it all week long!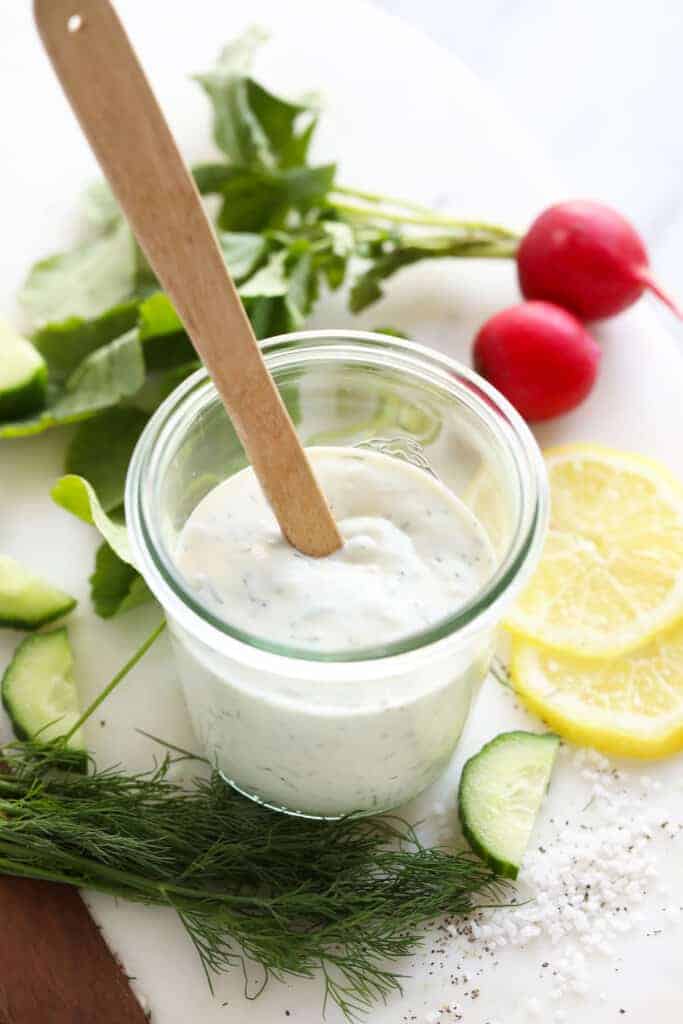 What would a salad be without all of the add-ins?! This salmon salad is jam-packed with veggies. It's also served with one of our favorite crumbled cheeses and nuts (for crunch!). Here's what you need:
Romaine lettuce
Red onion
Cucumbers
Radishes
Blue cheese
Slivered almonds
We know lots of you like to follow recipes to a tee and others like to make it their own. Here are some ingredient adds and swaps to consider.
Veggies/Fruit
Apple
Broccoli
Spinach
Arugula
Asparagus
Dried cranberries
Pear
Green onion
Dressing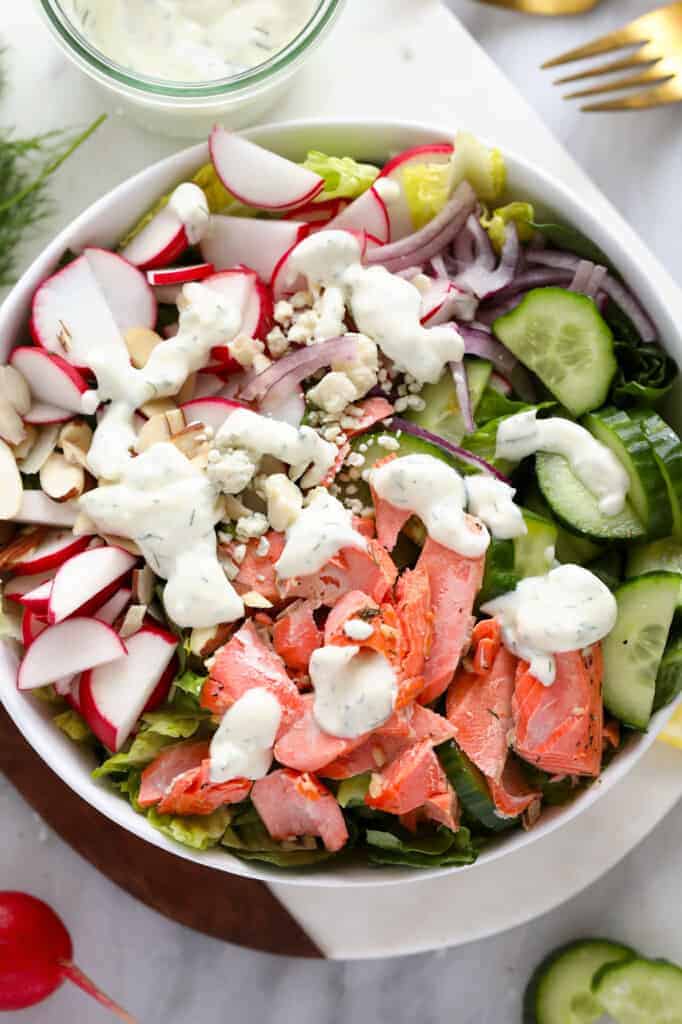 If you think you might have leftovers, we suggest storing all of these ingredients separately and not dressed. There is nothing worse than soggy lettuce, so store ingredients in an airtight container in the fridge for up to 3-5 days.
When you're ready to serve, mix everything up, dress, and serve!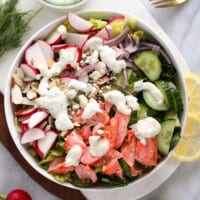 Easy Salmon Salad
This delicious salmon salad recipe is made with flakey salmon, tons of veggies, and a homemade Greek yogurt salad dressing.
Prep: 20 minutesCook: 10 minutesTotal: 30 minutes
Fat 43
Carbs 8
Protein 33
Yield 4–6 1x
For the Pan Seared Salmon
1.33 lbs. salmon (4 filets)
3–4 tablespoons butter
1 medium lemon, juiced
1 tablespoon minced garlic
1.5 tablespoons fresh dill
salt and pepper, to taste
For the Dressing
1/2 cup plain Greek yogurt, 2%
3 tablespoons olive oil
1 tablespoon fresh dill
1/8 teaspoon salt
1 tablespoon lemon juice
1 teaspoon minced garlic
For the Salad
8–10 cups chopped romaine lettuce (or more, to taste)
1/2 small red onion, thinly sliced
2 cups sliced cucumbers
2 cups sliced radishes
1/3 cup blue cheese, crumbled
1/3 cup slivered almonds
fresh cracked pepper, for serving
fresh lemon juice, for serving
For the Salmon
First, prep salmon by patting it with a paper towel to remove moisture. Then, season with salt and pepper, to taste.
Place 3-4 tablespoons of butter and 1 tablespoon minced garlic into a large nonstick skillet and heat over medium/high heat.
Place salmon skin-side up in the pan and sear for 4 minutes. Flip salmon and cook for an additional 3-4 minutes or until barely pink in the middle.
Once flakey and cooked to an internal temperature of at least 145ºF, squeeze lemon juice on top of salmon and sprinkle with fresh dill.
For the Dressing
Place all the ingredients for the Greek yogurt dressing into a small bowl.
Whisk to combine and set aside.
For the Salad
Prep veggies. Chop romaine lettuce and thinly slice 1/2 small red onion. Then, slice cucumbers and radishes. 
Separate romaine lettuce out into 4 bowls. Then, evenly distribute the veggies, blue cheese, and slivered almonds. Top with a filet of pan-seared salmon.
Finally, top each salad with 3-4 tablespoons of the Greek yogurt dressing. Serve with a squeeze of fresh lemon juice and cracked pepper, to taste.
This recipe was updated on May 7, 2021.
Serving Size: 1/6
Calories: 529
Sugar: 3
Fat: 43
Carbohydrates: 8
Fiber: 2
Protein: 33
Author: Category: SaladMethod: StovetopCuisine: AmericanDiet: Gluten Free