Never buy store-bought salsa again and make this easy salsa verde. This salsa verde is made with 6 ingredients and is refreshing and so flavorful.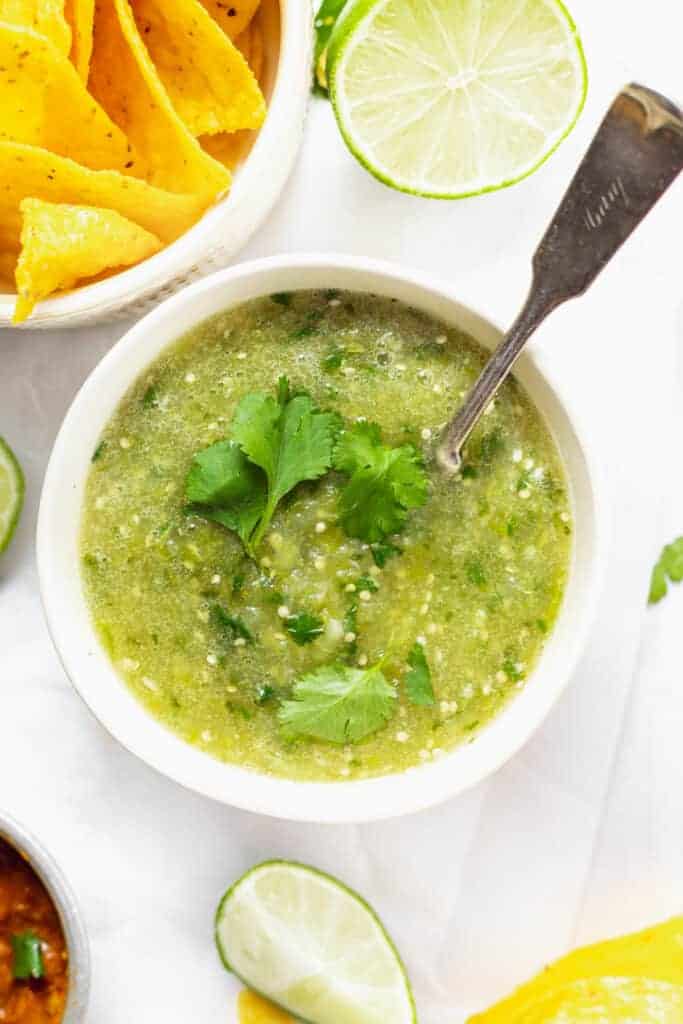 Is there anything better than a fresh homemade salsa verde with your favorite tortilla chip? No! This is our take on a salsa verde recipe that you will want to keep in your fridge at all times.
This Salsa verde…
Only uses 6 ingredients!
Is so fresh and delicious.
Can be served by itself or on many delicious dishes.
Tools You Need for Salsa Verde
You only need a few kitchen tools to prepare this salsa verde recipe! 
You only need 6 ingredients to make this salsa verde! Make it your own by choosing what spicy pepper you use. Trust us, this is so easy you'll make it every week!
Fresh tomatillos– you can find fresh tomatillos near the regular tomatoes in the grocery store. If tomatillos are not in season you can usually find then at your local co-op.
Garlic cloves – we suggest using fresh garlic cloves in this recipe. No need to mince these garlic cloves. Just peel the garlic cloves.
White onion- you can use any type of onion in this recipe. We suggest a white onion because it's not too sweet.
Jalapeños or serrano peppers– salsa verde tends to be a bit spicy. You can use jalapeños or serrano peppers, it's your choice! If you like things very spicy, feel free to add the seeds. If not, be sure to remove the seeds before placing the peppers in the sauce pan.
Fresh cilantro– you add fresh cilantro to the food processor after everything is cooked down. No need to de-stem the cilantro. You can use the stems, too!
Kosher salt–
Can't find fresh tomatillos? You can used canned tomatillos in this recipe just be sure to discard the poaching liquid before moving forward with recipe.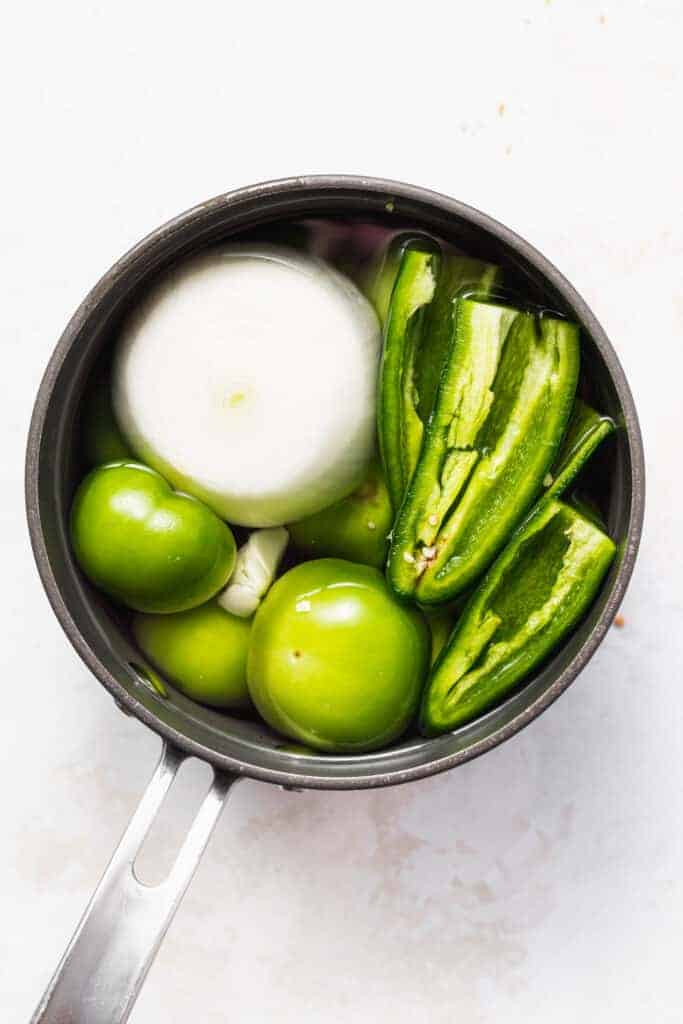 Prepare all ingredients. Seed your peppers, peel your garlic, and prepare the rest of the ingredients needed for this salsa verde.
Boil everything together. Add everything (except for cilantro and salt) into a saucepan. Cover all of the ingredients with water. Bring water to a boil over high heat and then simmer for 10 minutes.
Discard some water. Discard half of the water in in the pot so that your salsa verde isn't too runny.
Food process. Poor everything in a food processor and process until smooth, but not so much that it is purred. You want to leave some chunks for tasty texture.
Serve. Sere with chips or on top of your favorite dishes.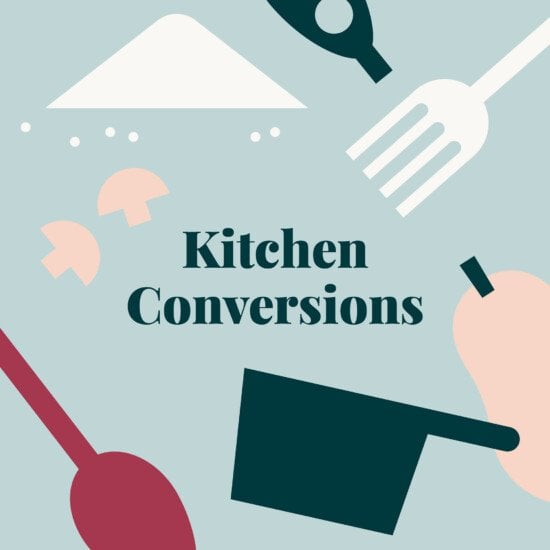 make it easy
Print Your Own
Keep common kitchen conversions like tablespoons to teaspoons and Fahrenheit to Celsius on hand at all times with our printable kitchen conversions chart.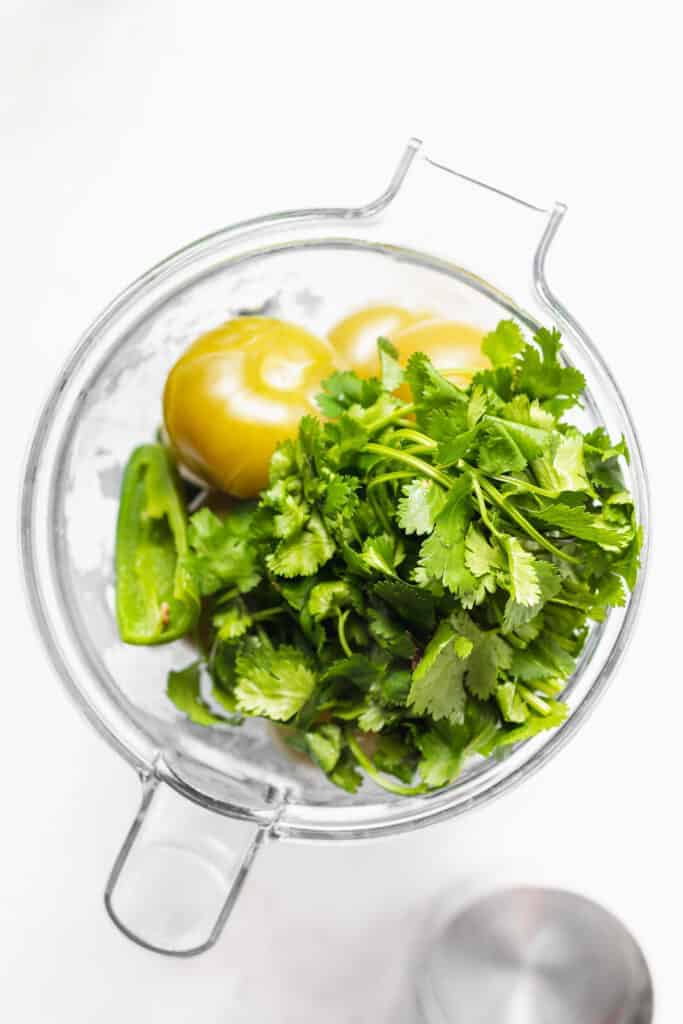 Salsa verde is a spicy and tart salsa like sauce that is served (generally) like classic red salsa.
You can serve salsa verde so many delicious ways! We like to serve it as an appetizer with our favorite chips, classic guacamole, and a delicious watermelon margarita. However, you can serve it to compliment many dishes!
Serve this salsa verde with any of the dishes below.
Let this salsa verde cool completely before storing it in an air tight container in the refrigerator for up to 7 days.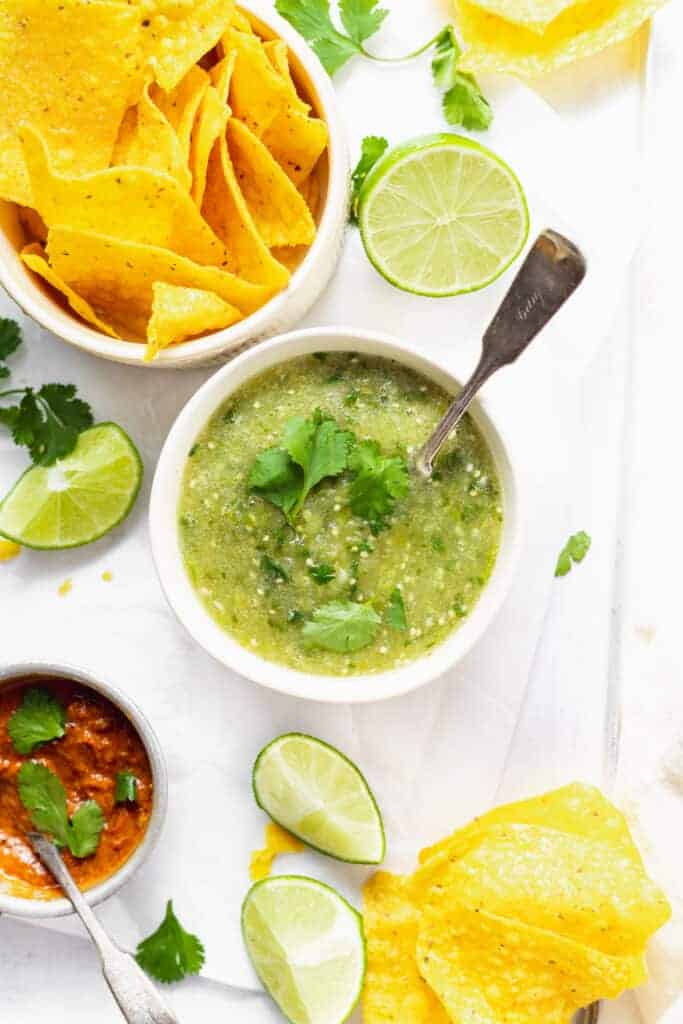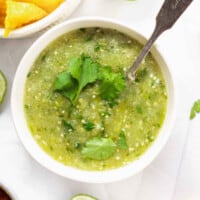 Easy Salsa Verde Recipe
This 6-ingredient homemade salsa verde is so easy to make in your own home. Add this salsa verde recipe to your enchiladas, tacos, nachos, and more!
Prep: 15 minutesCook: 10 minutesTotal: 25 minutes
Fat 1
Carbs 8
Protein 1
Yield 6 1x
1.5 lbs. fresh tomatillos, rinsed and husks removed (or canned whole tomatillos, poaching liquid discarded)
2 garlic cloves peeled
½ medium white onion, peeled
2 medium jalapeño or serrano peppers, stemmed and seeded
1 cup fresh cilantro with stems
½ teaspoon Kosher salt
Put all of the ingredients except for the cilantro and salt in a sauce pot and add just enough water to cover the vegetables. (If using canned tomatillos, drain away the brine and put them directly into the food processor). 
Bring to a boil over high heat. 
Turn heat to low and simmer for 10 minutes.
Strain away half of the water and transfer the rest of the ingredients to a food processor.
Add the cilantro and salt to the food processor.
Blend until almost smooth leaving a bit of texture.
Taste the salsa to determine if it requires more salt – season to to taste. If the salsa needs a bit of acidity, add a squeeze of lime juice. 
Serving Size: 1/6
Calories: 44
Sugar: 5
Sodium: 96
Fat: 1
Carbohydrates: 8
Fiber: 3
Protein: 1
Cholesterol: 0
Author: Category: DipMethod: StovetopCuisine: MexicanDiet: Gluten Free
Recipe by Erin Harris, The Cheese Poet.