Blend up your own strawberry daiquiri recipe at home for the most delicious frozen cocktail ever. This strawberry daiquiri is made with frozen strawberries, rum, and a simple syrup.
In the cocktail makin' mood?! Make sure to also try this blackberry Moscow mule , hibiscus Arnold Palmers, or these sex on the beach slushies.
Strawberry Daiquiri = Best Frozen Cocktail!
We love frozen cocktails during the warmer months because they're refreshing and simple to make at home even though they're restaurant-quality good!
This strawberry daiquiri recipe is seriously so perfect for a hot summer day or even just an afterwork happy hour. There is no ice involved and they come together in less than 10 minutes!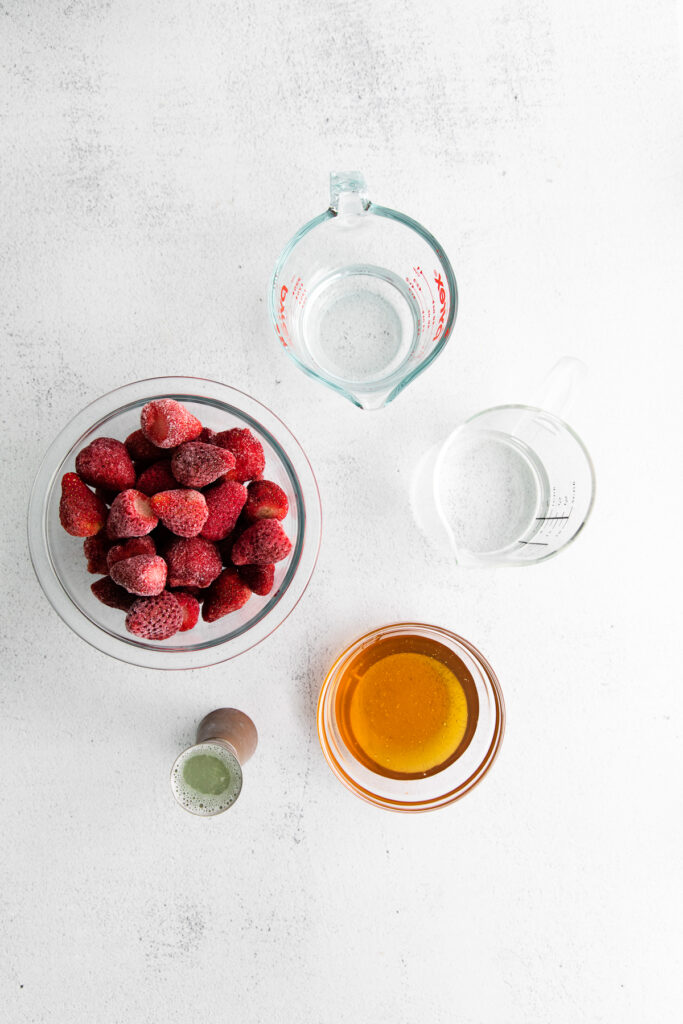 Strawberry Daiquiri Ingredients
There are no hidden ingredients you can't pronounce (you know, the ones you'd typically find in store-bought daiquiri mixes!) in this strawberry daiquiri! Just 5 simple ingredients away from the most delicious daiquiri you've ever had:
What can I use instead of rum?
Don't have white rum? We recommend swapping it for vodka or tequila instead.
Recommended Cocktail Tools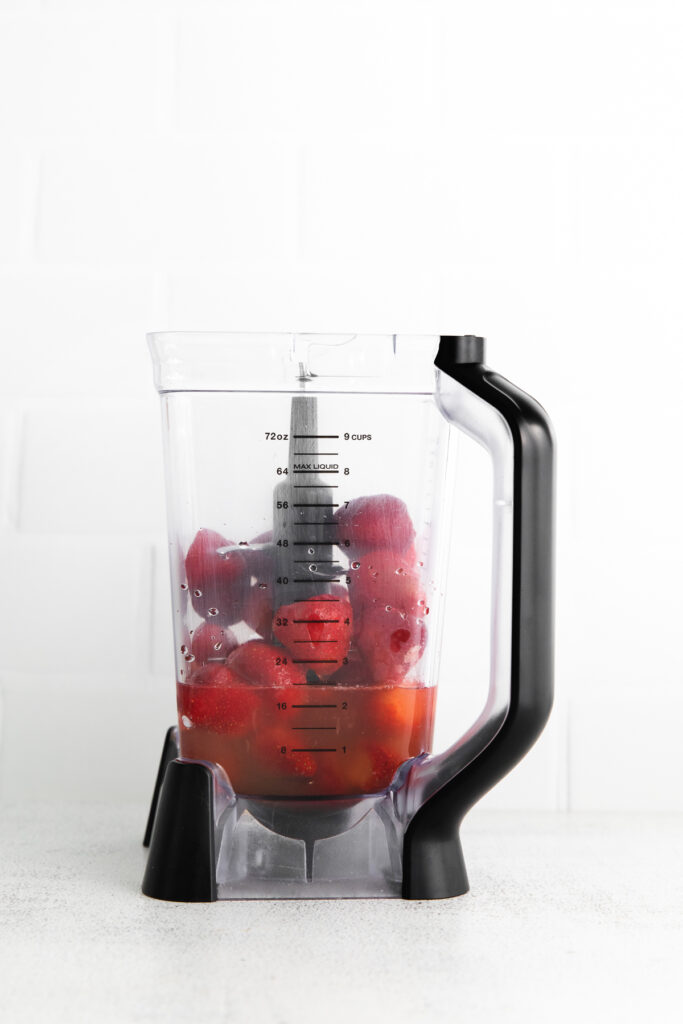 How to Make Honey Simple Syrup
Not only is does this honey simple syrup make this strawberry daiquiri refined sugar free, but we absolutely love the combination of strawberry and honey together.
Make your simple syrup by placing honey and water into a small saucepan.
Bring the honey and water to a boil, and then reduce heat and let simmer for 5 minutes until the honey dissolves.
Transfer honey simple syrup into a jar and chill in the fridge for later.
Can I use a regular simple syrup instead?
Yes! Feel free to make a simple syrup out of white sugar. Use the same method as above, but swap the honey for sugar.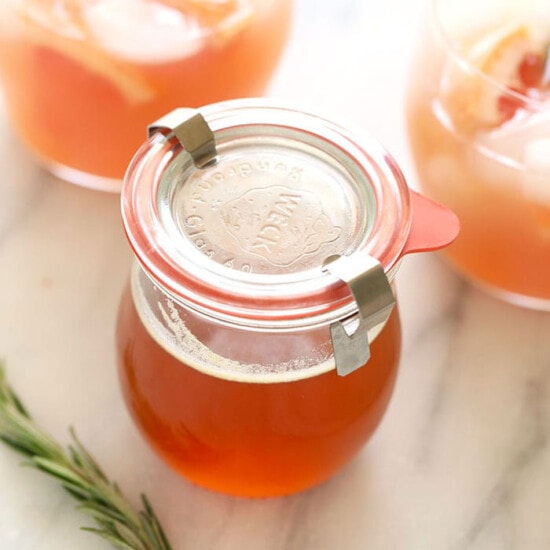 Try it!
Honey Simple Syrup
Our go-to honey simple syrup recipe is an excellent all-natural simple syrup and so easy to make. It's delicious in cocktails, lemonade, and even in some baking recipes!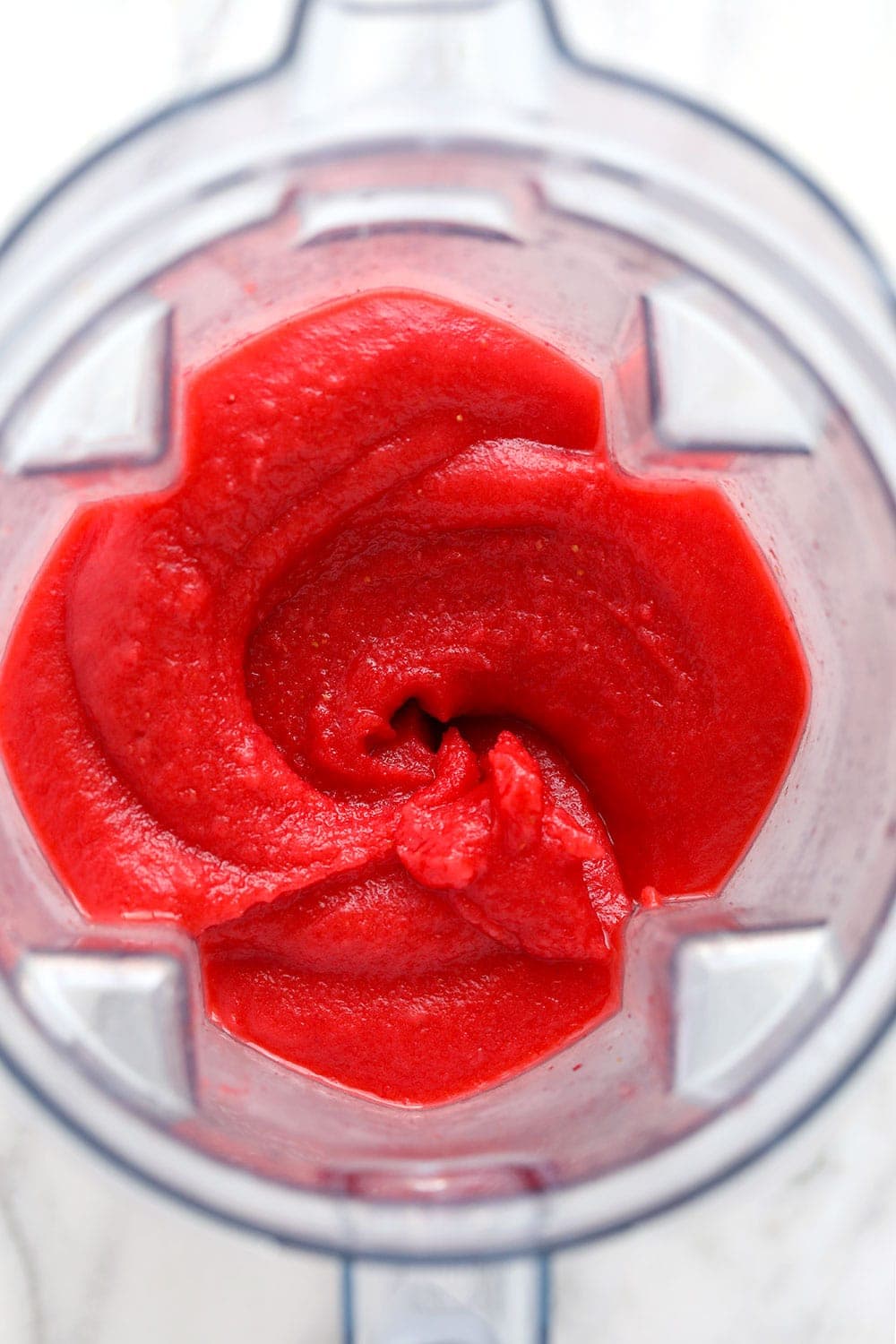 How to Make a Strawberry Daiquiri
Ever made a smoothie before? This Strawberry daiquiri recipe is just as easy!
Honey Simple Syrup: First, prepare a honey simple syrup by combining water and honey in a small pot. Simmer for 5 minutes over medium/high heat until the honey dissolves.
Blend: Place strawberries, rum, lime juice, and honey simple syrup in a high-speed blender. Blend on high until smooth.
Serve: serve your thick and frozen strawberry daiquiri immediately with a fresh strawberry and mint for garnish.
Daiquiri too thick or too thin?
Too thick: add a little water to thin things out and blend until smooth.
Too thin: add a few more frozen strawberries and blend until smooth.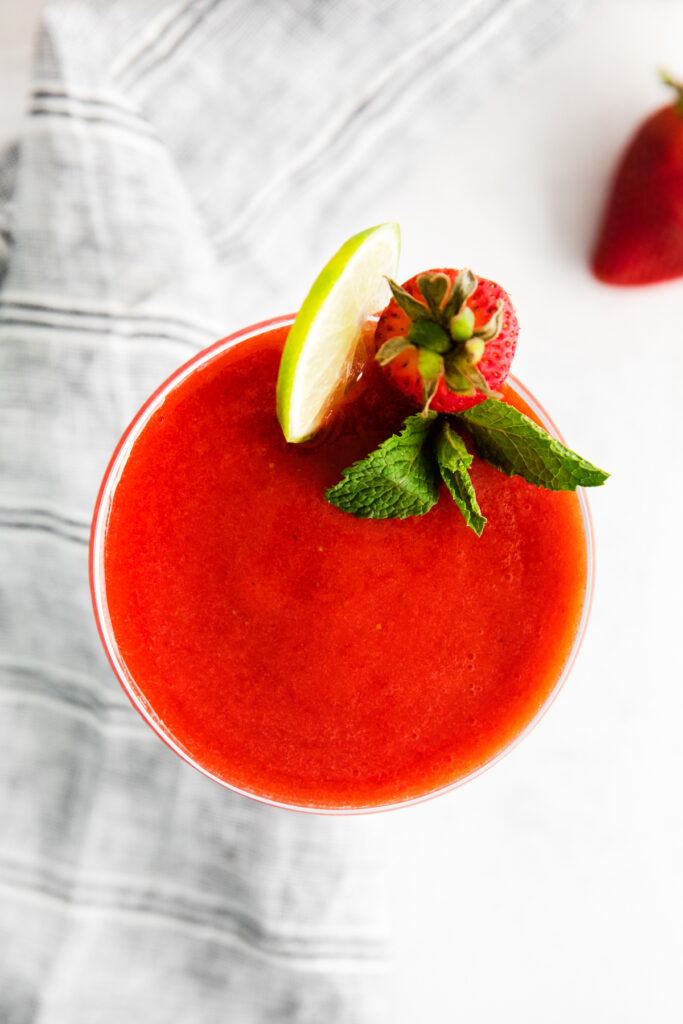 Can I make this non-alcoholic?
Absolutely! Simply omit the rum from this recipe and add 1/2 cup of water, and you've got yourself a delicious homemade virgin strawberry daiquiri. Also check out some of our other virgin cocktails:
Can I make a double batch?
This is a great recipe to double (or even triple!) to serve a crowd! Simply multiply each of the ingredients and make using the same instructions. Serve with mason jar glasses for the perfect backyard BBQ beverage.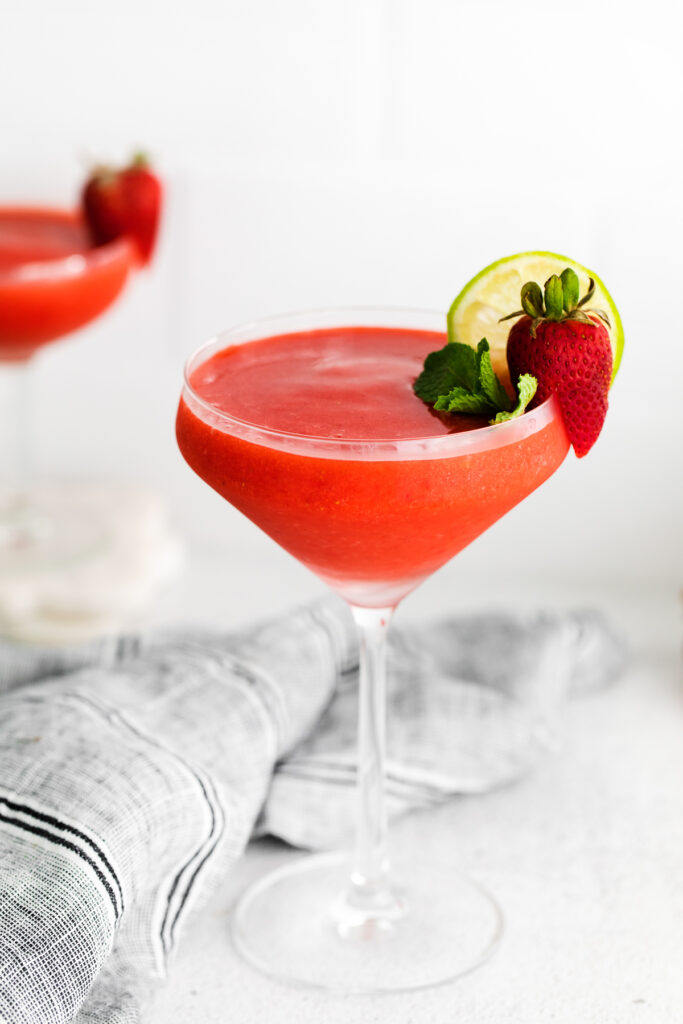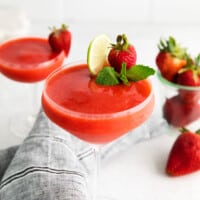 Strawberry Daiquiri Recipe
Blend up your own strawberry daiquiri recipe at home for the most delicious frozen drink ever! And bonus: this drink recipe has NO refined sugar!
Prep: 15 minutesCook: 0 minutesTotal: 15 minutes
Fat 0
Carbs 50
Protein 1
Yield 4 1x
1/2 cup honey
1/2 cup water
4 cups frozen strawberries
3/4 cup white rum (6 oz.)
2 tablespoons lime juice (1 oz.)
optional garnish: lime slices and fresh mint for serving
First, prepare honey simple syrup. Place honey and water into a medium saucepan and heat over medium/high heat.
Whisk until honey has dissolved into the water and then remove from heat.
Place frozen strawberries, rum, and lime juice into a high-speed blender. Then, add in 1/2 cup of the honey simple syrup.
Blend on high, stopping to scrape the sides. Your daiquiri is supposed to be thick, but if your strawberries are very frozen, you may need to add a little water to thin things out a bit.
Taste the daiquiri and add more honey simple syrup (you should have a little left over) as needed.
Serve immediately with fresh lime slices and mint.
Serving Size: 1/4
Calories: 253
Sugar: 39
Sodium: 3
Fat: 0
Carbohydrates: 50
Fiber: 3
Protein: 1
Cholesterol: 0
Author: Category: DrinkMethod: BlenderCuisine: AmericanDiet: Gluten Free
Keywords: strawberry daiquiri