Parmesan crusted chicken is such a fantastic and flavorful chicken recipe. Chicken breasts are dredged in a parmesan cheese and bread crumb mixture and then pan-fried until golden brown perfection.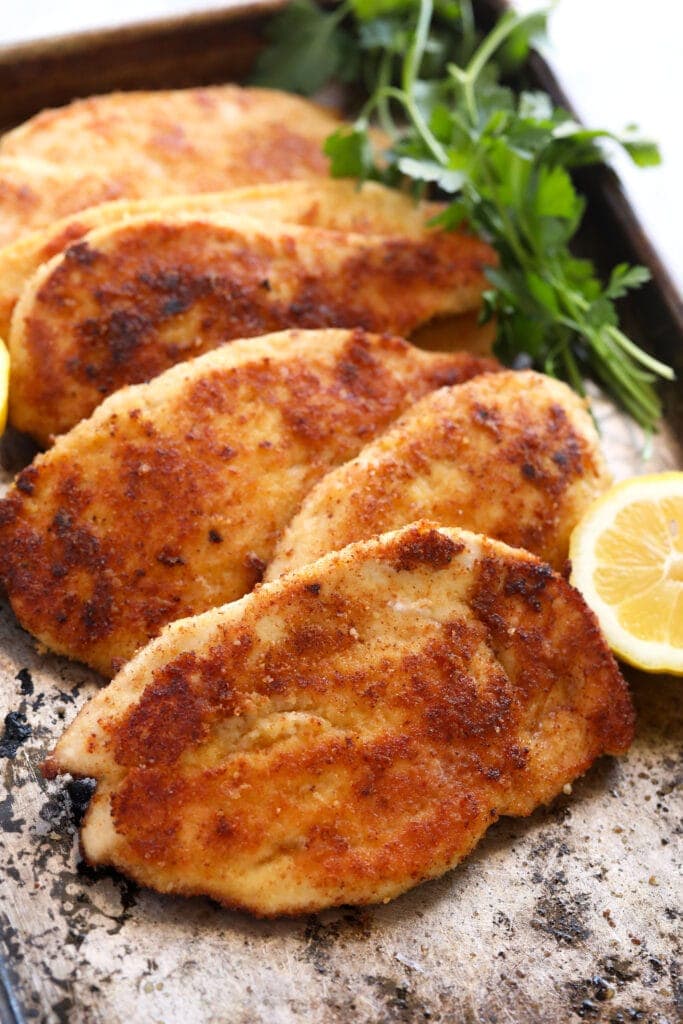 What is Parmesan Crusted Chicken?
Parmesan crusted chicken is pan-fried or baked chicken breast cutlets dredged in parmesan cheese and bread crumbs to make them crispy on the outside and tender on the inside.
To get the perfect crust on chicken we used an egg wash + dredge method that coats the chicken cutlets in egg, which helps the parmesan cheese stick to the chicken. Then, pan fry it in butter or olive oil for the perfect crust.
What you need for Parmesan Crusted Chicken
What is in parmesan crusted chicken? The two main ingredients in this recipe are chicken breast and parmesan cheese. Here's what else you need:
Boneless skinless chicken breasts: you'll actually be slicing your chicken breasts in half long-ways, so this recipe calls for 3 large breasts.
Bread crumbs: we used plain bread crumbs, but you could also use gluten-free, whole wheat, or Italian.
Grated parmesan cheese: it is important that you buy "grated" parmesan cheese and not shredded. Grated is much finer and we found it to give you a better crust.
Garlic powder: what is parmesan crusted chicken without some garlic?!
Egg: you'll be making an egg wash. Start with 1 egg and if you end up needing more, just crack another.
Olive oil: we tested both olive oil and butter to use for frying. Both work, it's just all about preference.
How to Make Parmesan Crusted Chicken
First, prepare the chicken breasts by slicing them in half long-ways to form cutlets. You should go from 3 large breasts to 6 chicken cutlets.
Next, cover your chicken breasts with a piece of plastic wrap (or place them in a gallon-size plastic bag like we did) and use a meat tenderizer to pound chicken until they are the same thickness (~1/2-inch thick).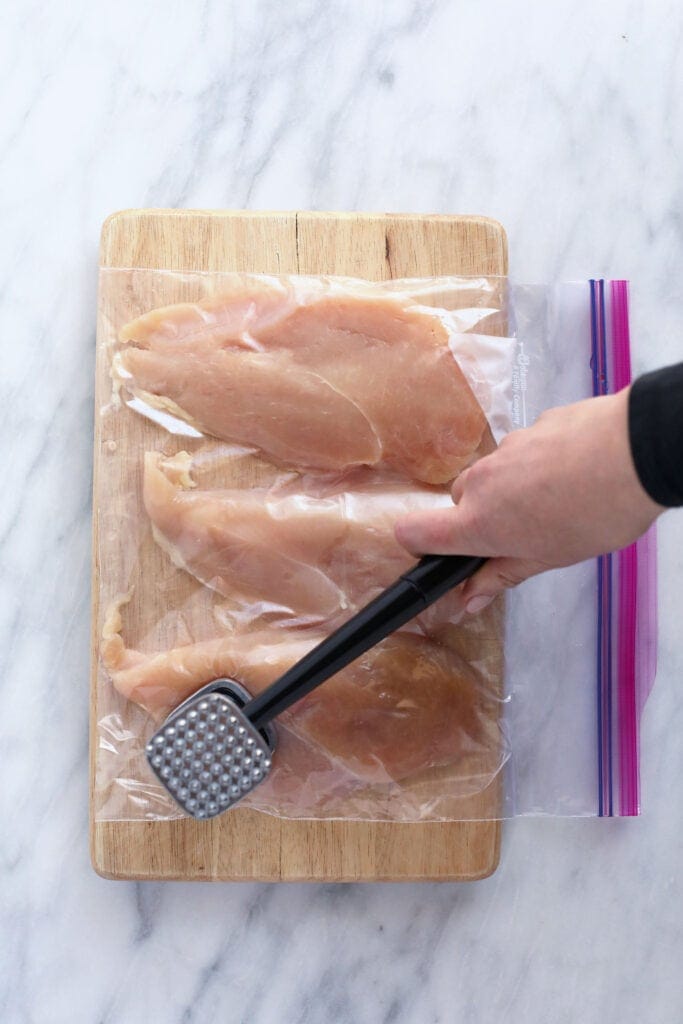 Next, prepare the parmesan coating by combining grated parmesan, garlic powder, salt, and bread crumbs. We like to use a shallow bowl or dish so that it's easy to coat the entire side of the chicken breast at once.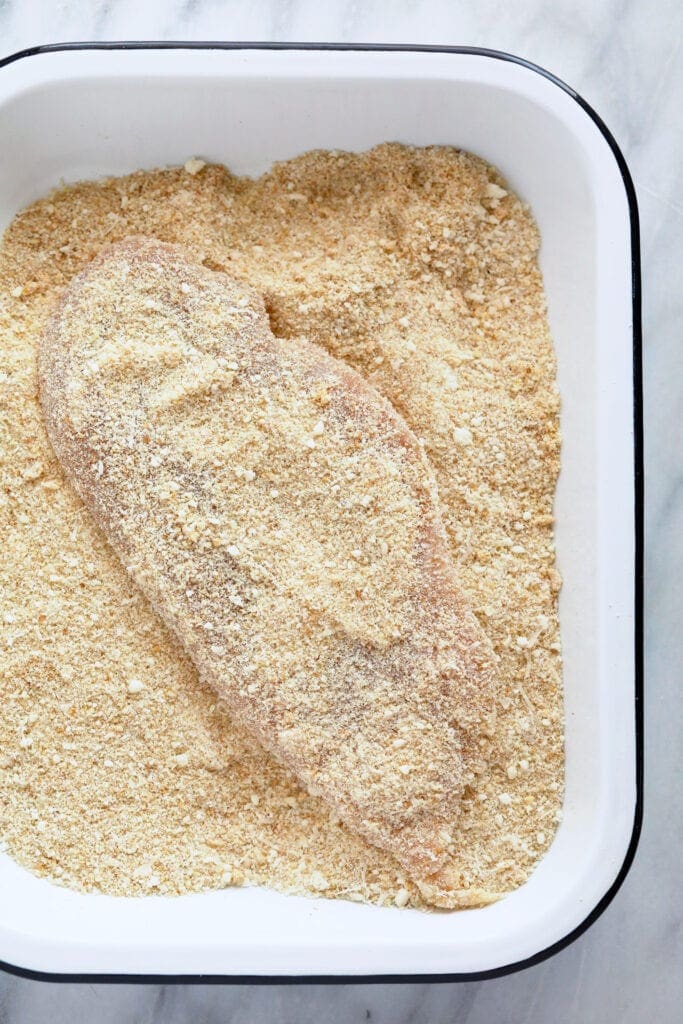 To dredge means to lightly coat in a dry ingredient such as flour, breadcrumbs. The reason you want to dredge in the first place is to help your meat or fish get nice and crispy on the outside.
In this parmesan crusted chicken recipe we use an egg + dredge combination.
Dip each chicken cutlet in the egg wash, letting the excess egg drip off.
Then, place the chicken breast on top of the parmesan coating and then flip it over, making sure both sides are fully coated. Sometimes it's easier to spoon the coating on top to make less of a mess.
The last step in this recipe is cooking the chicken! There are many methods in cooking chicken breast, but in this post we are sharing 2 for parmesan crusted chicken: pan frying and baking.
We HIGHLY recommend pan frying as you will get a golden brown, crispy crust this way. While oven baking is much easier, you don't get the same kind of crust.
To Pan Fry
Heat olive oil or butter in a nonstick skillet over medium/high heat.
Then, add 1 to 2 chicken cutlets at a time and let fry for 5 minutes on each side.
You know your chicken is done cooking when it is golden brown on the outside and when the internal temperature reads 165ºF.
Do you cover chicken when baking? There is no need to cover chicken while it is baking in the oven.
Should you sear chicken before baking? Searing isn't necessary before baking chicken breasts, however it can help give it a nice and crispy outside.
How do you know when your chicken is fully cooked? The best way to know if your chicken is fully cooked is a meat thermometer. The internal temperature should be at least 165ºF to safely consume chicken breast.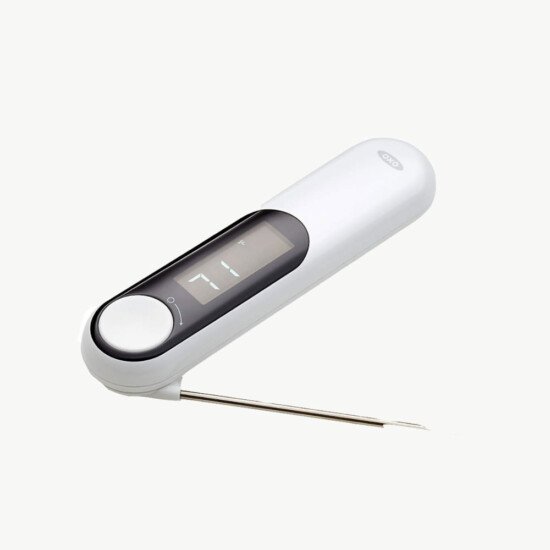 recommendation
Meat Thermometer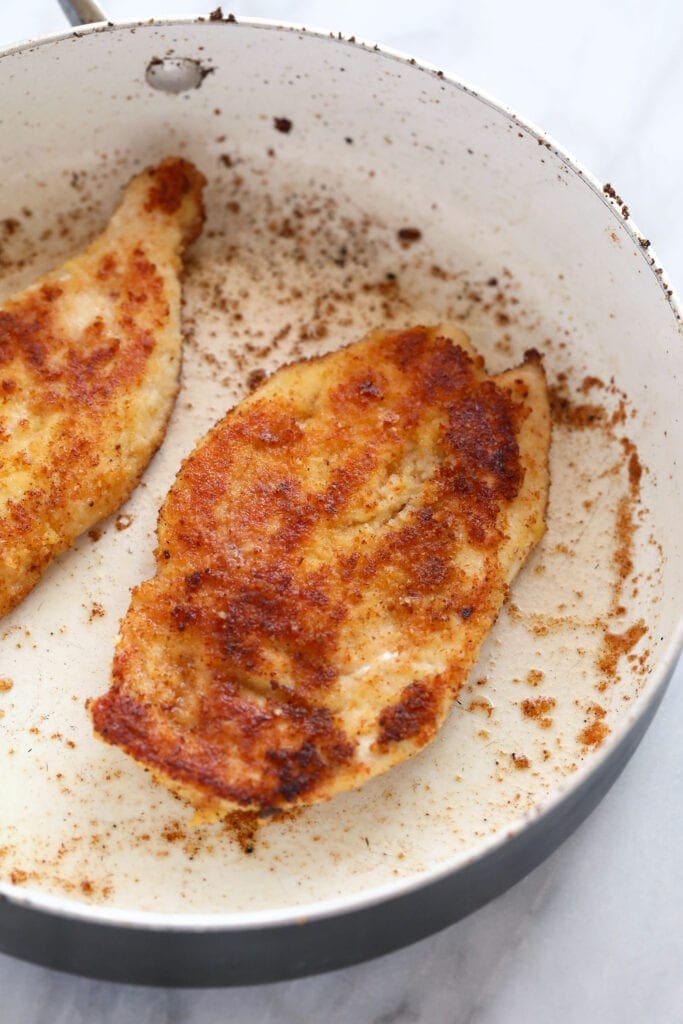 Slice & Tenderize Chicken Breasts: Making sure to slice your large chicken breasts in half and tenderize them with a meat tenderizer is super important for even cooking.
Use Grated Parmesan: Grated parmesan is much finer than shredded. It will stick to the chicken breasts better.
Always Fry: You'll see in the recipe card that we give directions for baked parmesan crusted chicken. But if you do one thing right in this recipe it's that you will fry the cutlets on the stovetop.
Recipe Variations
Serving Suggestions
Every chicken breast deserves a good plethora of sides! Here are some top choices to complete your meal: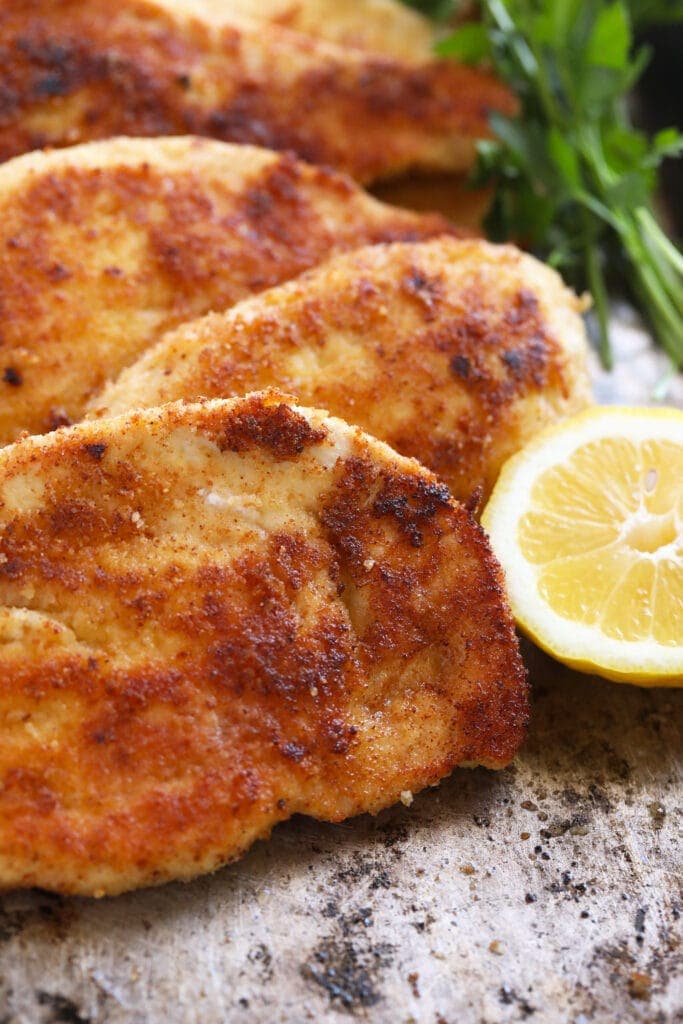 Let parmesan crusted chicken cool completely. Then, transfer into an airtight container. Store in the fridge for up to 3-5 days.
Parmesan crusted chicken is an excellent chicken recipe to double or triple and freeze for later. Here's how to do it:
Let chicken cool completely.
Then, wrap each chicken breast in a piece of tin foil, removing as much air as possible.
Freeze for up to 3 months.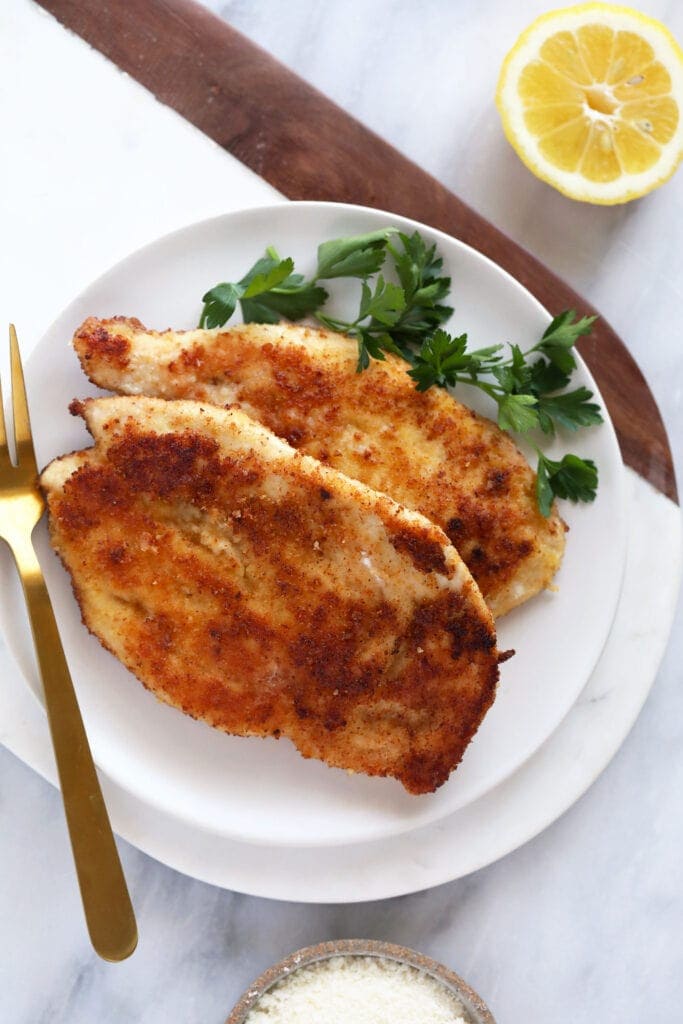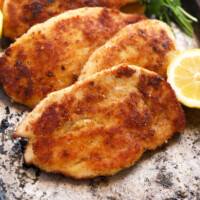 Parmesan Crusted Chicken (pan-fried or baked)
This Parmesan Crusted Chicken is crispy on the outside and tender on the inside. Dredge your chicken breast in bread crumbs and parmesan cheese and pan fry it for a golden crust!
Prep: 15 minutesCook: 20 minutesTotal: 35 minutes
Fat 15
Carbs 7
Protein 45
Yield 4–6 1x
2 lbs. boneless, skinless chicken breast (~3 large breasts)
1/2 cup plain bread crumbs (Italian or whole wheat work too)
1 cup grated parmesan cheese
1 tablespoon garlic powder 
1/2 teaspoon salt
1 large egg*
3 tablespoons olive oil (or butter)
Begin by preparing the chicken breast. Slice each breast length-wise in half to create 6 chicken cutlets. Place the chicken on a cutting board and then cover them with plastic wrap. Using a meat tenderizer, pound the chicken to a ½-inch thickness. Set aside. 
In a large bowl, combine breadcrumbs, parmesan, garlic powder, and salt. Mix to combine. In a medium bowl, whisk 1 egg.
Dip each chicken cutlet in the egg wash, letting the excess egg drip off. Then, dredge the chicken in the breadcrumb mixture on both sides. Make sure that the chicken is fully coated. 
Pan-Fry (HIGHLY recommended)
Heat 1/2 tablespoon olive oil in a large nonstick frying pan over medium/low heat. When the olive oil is fragrant, add 1 to 2 chicken cutlets to the pan (depending on how big your pan is). Let cook for around 5 minutes on each side or until golden brown. The internal temperature should read at least 165ºF. 
Wipe done your pan in between each chicken breast to remove any brown bits. Continue frying each parmesan-crusted chicken cutlet in 1/2 tablespoon olive oil until all are cooked.
Serve with fresh lemon and parsley.
Baked
Preheat the oven to 400ºF. Place a metal rack on top of a baking sheet and then place the parmesan-crusted cutlets on the metal rack. Make sure they are not touching.
Spray the tops of the chicken with olive oil cooking spray and bake at 400ºF for 10 minutes. Flip the chicken and spray the other side with cooking spray and then bake for an additional 10 minutes. The internal temperature of the chicken should read 165ºF. 
Serve with fresh lemon and parsley.
Egg: 1 egg worked perfectly for us, but you may need to use another.
Serving Size: 1/6
Calories: 338
Sugar: 1
Fat: 15
Carbohydrates: 7
Fiber: 1
Protein: 45
Author: Category: ChickenMethod: Pan FryCuisine: American
Keywords: parmesan crusted chicken